Introducing Dan Patch'n Fruit IPA, Our 2023 State Fair Exclusive Beer!
Thursday, August 10, 2023, By Summit Brewing
A tropical twist on a traditional IPA, Dan Patch'N Fruit is a refreshing and easy-drinking IPA with bright flavors of passion fruit and hops. This sessionable brew greets you with tropical aromas and a subtly sweet and fruity first impression and leaves a soft, smooth, hoppy bitterness. The long, dry, and mildly tart finish will have you looking forward to the next sip. At a 4.6% ABV, Dan Patch'N Fruit IPA is a great beer to enjoy on a sunny day at the fair!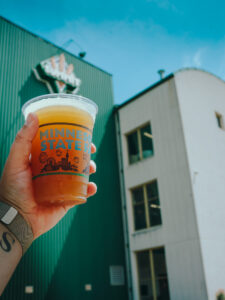 "We are a traditional brewery with a strong focus on brewing classical European beer styles. While broadly recognized for this approach, the Minnesota State Fair provides us with a wonderful opportunity to explore new flavor profiles and experiment with new ingredients," said Damian McConn, Chief Brewing Officer. "This year's exclusive is a perfect beer to savor during these last days of summer while enjoying everything the fair offers."
Where did the name come from? With a flavor note like passion fruit, there were many options that were considered. Ultimately, the brewery looked to honor the tradition of the fair and pay homage to the legend of Dan Patch at the fairgrounds. It just so happens that the flavor profile fits perfectly with the iconic harness racer's name.
"Historically, both Summit and the State Fair have been able to maintain that balance between tradition and innovation, and Dan Patch'N Fruit IPA is the latest example of doing just that," comments Chief Strategy Officer Brandon Bland. "It gives this year's fair-goer a lighter, more fruit-forward IPA option while paying homage to a Fair icon and upholding the tradition of quality that both Summit and the Fair are known for."
You can only find Dan Patch'N Fruit IPA at the Summit on a Stick booth and Shanghai Henri's in the International Bazaar at the south end of the State Fair. Available in 12oz and 20oz cups or as a part of the Summit on a Stick paddle alongside Summit's Oktoberfest and your choice of five other Summit classics. Find other Summit products at the State Fair by checking out our State Beer Map!
Back to News