It's Never too Early for Oktoberfest!
Wednesday, August 30, 2023, By Summit Brewing
Yes, it's still Summer. However, here at Summit Brewing, we feel Fall in Minnesota must be a state of mind, seeing how short it is. Because if you blink in September, you might miss the leaves changing and only catch snow. So because of these circumstances, were dropping our Oktoberfest… Right ……Now!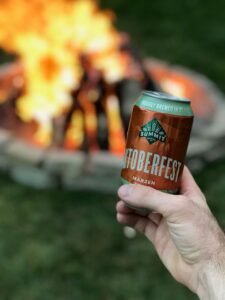 What's Oktoberfest, some of you may ask? Well, it's a month-long party in Germany from September to October. The first Oktoberfest is a festival that was celebrated for over 200 years, and its origins can be traced back to the marriage of Prince Ludwig of Bavaria and Princess Therese of Saxony-Hildburghausen in 1810. The citizens of Munich were invited to celebrate the royal wedding, and the festivities included horse races, beer, and food. The event was such a success that it was repeated the following year, and eventually, it became an annual tradition that's gotten bigger and better every year since.
What's Oktoberfest got to do with beer? Ummmm everything. You see during the early years of Oktoberfest, different styles of beer were brewed by individual breweries in Munich. However, in 1887, the festival association decided there were too many beer options and, in typical German efficiency, created a unique beer style for Oktoberfest, known as "Märzen" (which means March if you speak German). The beer was brewed in the spring (hence the name March… dots… connected) and then stored in cool cellars until the festival in the fall. This allowed the beer to age and develop a rich, malty flavor perfect for the fall festival.
Fast forward to 2001, and travel a couple thousand miles from Munich to St. Paul, you'll find us brewing our first Oktoberfest Märzen. Inspired by the ultimate beer celebration and crafted in the classic Märzen-style, Summit Oktoberfest is the perfect fall-ish beer. And just like the first batch in 2001, this beer is full in the body thanks to a blend of European hops and Moravian 37 malts; it starts right with toffee flavors and finishes clean and crisp like the autumn air, even in August.
So be warned, much like the fall here in Minnesota, our Oktoberfest will go in a flash. So even if the original festival doesn't start for another month, grab a couple of pints, raise a stein, and enjoy!
Cheers!
Back to News