Summit, St. Paul Saints Return to CHS Field with Home Opener
Tuesday, May 11, 2021, By Summit Brewing
Let's play ball!
After a year of cancelations, delays and a significantly less baseball, CHS Field is excited to welcome in fans for the Saint Paul Saints 2021 Season.
On Tuesday, May 11 the Saint Paul Saints, and Summit Brewing Co., are returning to CHS Field for the Saints home opener! Summit has remained a sponsor of the capitol city baseball team and will once again be available throughout the park.
While more seats can be occupied than the previous season, there are still rules for attendance. In accordance with state law, CHS Field will only fill to 27 percent capacity, which means 2,100 fans can watch live.
However, the 2021 Season is sure to be an exciting one as the Saints are now officially a Triple-A affiliate of the Minnesota Twins. As a long-time sponsor of the beloved minor league team, Summit Brewing Co. is excited for what this new title means.
"With the St. Paul Saints being a AAA affiliate of the Twins, and Summit now being the Official Hometown Craft Beer of the Minnesota Twins as well, it's going to add a dimension we've yet to experience," CEO and Founder Mark Stutrud said.
"We have a great opportunity for our brands to become synonymous with two incredibly run franchises, and connect with their fan bases deeper than ever before," Director of Sales Brandon Bland said.
The Saint Paul Saints play their first game of the season on Tuesday, May 4 in Nebraska against the Omaha Storm Chasers. Their home opener will be on Tuesday, May 11 against the Iowa Cubs. Game starts at 7:05 p.m. Find Summit Extra Pale Ale, Summit Saga IPA, Summit Slugfest Juicy IPA and Summit Cabin Crusher Kolsch-Style Ale with Lime at each concession. For more Summit beers check out the Beer Dabbler trailer in the left outfield. For more information on tickets or ballpark COVID-19 policies, visit the Saint Paul Saints online.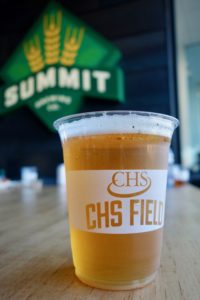 Back to News