Summit Brewing Co. Releases Throwback EPA Packaging Ahead of 35th Anniversary
Thursday, May 6, 2021, By Summit Brewing
Summit Brewing Company's flagship ale gets new anniversary look.
This September, Summit Brewing Co. is turning 35-years-old. To celebrate, we're re-releasing our flagship Summit Extra Pale Ale with a totally tubular 1980's inspired look.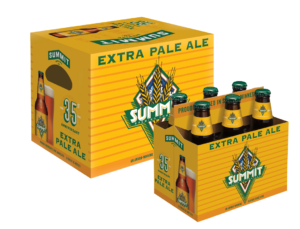 Just like the beer inside it, this retro logo is bright and balanced. Created with the original EPA logo in mind, this new packaging highlights Summit Brewing's original brand logo and the bright gold of the EPA packaging. Simple lines give it a sleek, retro feel.
When Summit first opened its doors in September 1986 at the former University Avenue location, Extra Pale Ale was the first beer we brewed.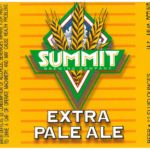 The pale ale, first offered in kegs only, was a result of nearly six months of recipe planning and test brewing.
According to Founder & President Mark Stutrud, before even brewing the first batch decisions had been made on the alcohol level, which was determined by original gravity of the style, the blend of pale and roasted malts, which in turn determined the color of the beer, and the hops.
Yeast selection came last, and was a bit of an arduous process.
"We were able to purchase several yeast strains from a source in England," Stutrud said. "We started out with six different strains and did test brewing and then reduced it down to three after studying the performance of the yeast and determining our preferences of the flavor profile."
After choosing the yeast, then it was time to put everything together.
"Including testing the final three strains of yeast [to see which we preferred], we probably brewed at least a dozen batches," Stutrud said. "And then when you land on something you're happy with, then we would brew enough to be able to get into the market and offer samples."
Not long after opening, Summit soon began bottling. Cans would eventually come 28-years-later in 2014.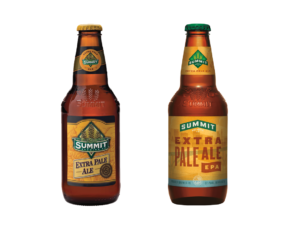 In all, EPA has switched up its appearance just three times in 35 years. And, according to Stutrud, that's about the only thing that has changed.
"The flavor profile is essentially the same," Stutrud said. "The base malt, that barley variety has changed four times over 35 years because of advancements in roasted barley that help to improve flavor stability, and one hop variety has changed because the original is no longer cultivated."
So, despite a few edits here and there, those caramel malts and earthy hops are the same flavors from 1986, and now with a look to match!
Summit Extra Pale Ale 35th Anniversary Packaging will be available in 6-, 12- and 24-packs of 12oz bottles. Find it for a limited time at a store near you.
Back to News