Summit Oatmeal Stout Released in Bottles
Wednesday, February 24, 2021, By Summit Brewing
For the first time since its inception in 2004, Summit Oatmeal Stout will be released in bottles.
 After 17 years of only being offered on nitro draught lines, Summit Oatmeal Stout is being packaged!
First released in 2004, Oatmeal Stout was an instant fan favorite. As a style, Oatmeal Stouts tend to be sweeter and less acidic than their Irish counterparts. Our take was inspired by stouts from the United Kingdom, which meant bringing in naked oats to offer a rounded, balanced body. Low in bitterness and rich in flavors of coffee, caramel and chocolate, it had an overall roasted sweetness in every sip. Serving it exclusively on nitro draught also gave the beer a creamy head and a velvety smooth finish.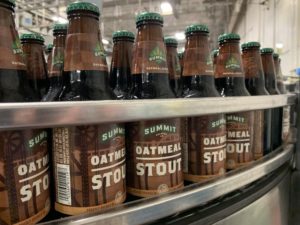 As fans of this beer had long been wanting to see it in packaging, we knew we had to be very deliberate with what kind of packaging it would be in.
"I've wanted for years to have a packaged stout in our portfolio. It's a great style overall," head brewer Damian McConn said. "Oatmeal Stout is a great beer on draught, but we really thought we could do it justice by putting it into glass and showcasing some of the differences that the packaged route provides."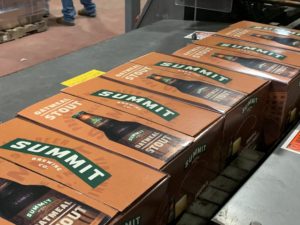 Thus, Oatmeal Stout in bottles was born! This extension of the beer offers a wonderfully different experience by sharpening the flavors and adding a crisper finish to the drinking experience.
McConn said fans should still expect some sweetness in the brew, but to look for notes of hazelnut instead of coffee. The caramel and chocolate aromas will still be present, but the body will be fuller and brighter.
Summit Oatmeal Stout is available in 12-packs of 12oz bottles. For those seeking the nitro component, it can be found anywhere Oatmeal Stout is poured on draught. Find either the packaged version or draught version nearest you by using our online Beer Finder. Cheers!
Back to News