Summit Great Northern Porter Returns…in Cans!
Wednesday, September 2, 2020, By Summit Brewing
All aboard! Our second ever brew – Summit Great Norther Porter – finally arrives in cans! 
For fans of our one and only porter, something may have felt a little off this summer. (Well, a little more off because…2020.) Great Northern Porter was absent from the shelves.
Was it because demand became so high during shelter-in-place for quality local brews? Or was it because the beer was being discontinued?
Neither!
It was because we transitioned it to be a limited-release and we were working on the roasted brew's brand-new look: 12oz cans.
That's right! After nearly 34 years in bottles, Great Northern Porter will now only be available in 12oz cans!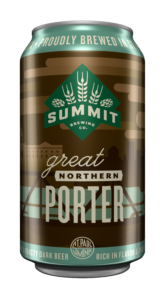 Those who have followed us from the beginning may already know, Great Northern Porter was our second ever beer. Created in 1986, this porter is named for the majestic railway that stretches from St. Paul to Seattle. Brewed with roasted malts and a bold hop mix, it is slightly sweet and slightly bitter. Notes of caramel, chocolate and coffee give it a toasted, warm finish.
At Summit we believe in tradition, so it's not in our nature to simply say goodbye to one of our legacy brews. Great Northern Porter may be transitioned to a limited status, but it's certainly still on the tracks!
Summit Great Northern Porter will be available in 12oz cans as one of our exclusive beers in our House Party Variety Pack starting in September. In mid-October, you will find it in its own 12-pack and 6-pack of 12oz cans too. Find it at a store near you!
Back to News