Beloved Summit Dark Infusion Returns in House Party Variety Pack
Monday, August 31, 2020, By Summit Brewing
Fans of our most (well, our only really) intergalactic brew, rejoice! It's once again time for the annual landing of Summit Dark Infusion Coffee Milk Stout!
First brewed in 2016 as part of our Summit Unchained Series, this cold brew stout was so out-of-this-world good that fans asked for it to return again and again. So in 2018, for the first time ever, Summit brewers brought back an Unchained Series beer and brewed another batch of Dark Infusion. Since then, Dark Infusion has maintained its orbit in our yearly round-up returning each fall.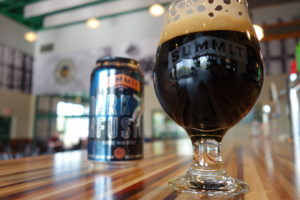 But this year, there's been some slight changes.
Still rich in flavor and full in body, the imperial milk stout will continue to have roasted flavors from its specialty malt blend, sweet notes of lactose, caramel and chocolate and a bitter bite from cold-brewed coffee. But this year, the coffee is from a new supplier – Minneapolis' Big Watt Beverage.
Additionally, Dark Infusion's time on this planet will be limited to just 12oz cans inside our House Party Variety Pack. So, while it will return its visit is limited!
Get a taste of this interstellar brew before it is gone!
Summit Dark Infusion Coffee Milk Stout will be available exclusively as 12oz cans in the House Party Variety Pack. Look for it to land on shelves near you soon!
Back to News