Summit Brewing Co. Releases The Perfect Patio Beer
Wednesday, April 18, 2018, By Summit Brewing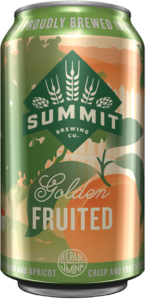 Summit Golden Fruited Features Additions of Fresh Peach, Apricot and Sunshine
Patio season is imminent here in Grain Country, and everyone knows you can't sit out in the sun on a hot day without some cold refreshments. Keeping this in mind, a number of Summit Brewing Co. employees recently undertook a special, top-secret project: Identify the Perfect Patio Beer.
Our qualifications: We've sat on a lot of patios, and we've had our share of beer.
Our methodology: We sat on some more patios, and we drank some more beer.
Our findings: Summit Golden Fruited is the Perfect Patio Beer.
What makes it so? Well, we encourage you to review our qualifications once again.
Featuring aromas of passionfruit and mango from 100 percent Galaxy hops grown in Australia, plus notes of biscuit, toast and bread crust from US, UK and Argentinian malts, Summit Golden Fruited pours Harvest Gold in color with a sessionable ABV of 4.8%. The result is a crisp and refreshing Golden Ale with mild bitterness and a distinctive, fruity finish.
Ah, yes — the fruit!
We've added fresh peach and apricot puree to the base beer before fermentation, making this highly drinkable beer perfect for a warm summer's day spent outside. Keep in mind, of course, that these flavors and aromas of peach and apricot exist in a delicate balance with the beer's malt and hop profiles — it's by our brewers' design that no one characteristic dominates another.
Some History
Golden Ales like ours have their roots in pre-prohibition Cream Ales — beers once produced at ale breweries to compete with the lager styles that were favored in the Northeast United States. These ales were clean, crisp, well attenuated (another way of saying dry) and, like lager beers, they were often cold conditioned for multiple weeks. So, that's the playbook we followed.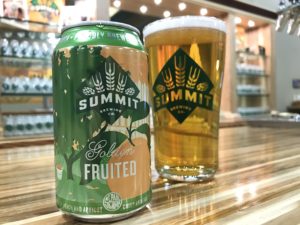 "The key to our Golden Fruited Ale," says Head Brewer Damian McConn, "lies in ensuring that the cream ale's basic elements — approachability, balance and light body — are present and working together with the added dimension and complexity of these peach and apricot fruit flavors. We want to achieve an appropriate blend of all these ingredients and ensure that all flavors are noticeable."
Drink the Beer Already!
You can get your first taste of Summit Golden Fruited on tap at the Beer Hall on Thursday, April 26, 2018. Perhaps you could sample some Ninja Sushi, too, if you get the munchies; their food truck will be parked right outside ON OUR SUNNY PATIO. We'll also be tapping this year's very first super-fresh kegs of Summit Hefeweizen right alongside Golden Fruited, so now you have another reason to come see us. You're welcome!
Summit Golden Fruited and Summit Hefeweizen are available now inside the Summit Boundary Waters Box variety pack with Summit Skip Rock and Summit Lazy Sipper. Get yours soon, though, because like patio season, it won't last forever.
Summit Golden Fruited
ABV: 4.8%
IBU: 22
Color: Harvest Gold (7 L)
Malts: US Pale, Argentinian Pale, UK Light Crystal, Carapils
Hops: Galaxy
Kettle Additions: Peach, Apricot
Yeast: American Ale
Serving Tips: Serve at 38–44º F in a stemmed pils glass alongside lighter fare like chicken, salmon, fresh salads, or light, nutty cheeses like Monterey Jack. It's also tasty with lemon custard tart, an apricot cake, or a simple glazed doughnut served on a sunny patio.
Summit Hefeweizen
ABV: 4.5%
IBU: 18
Color: Harvest Gold (7 L)
Malts: US Pale, US Wheat
Hops: Tettnang
Yeast: German Ale
Serving Tips: Serve at 38–42 º F in a Hefe glass alongside traditional German dishes like weisswurst, wiener schnitzel, and spaetzle. Also try white fish, chicken flautas, or Bavarian salad.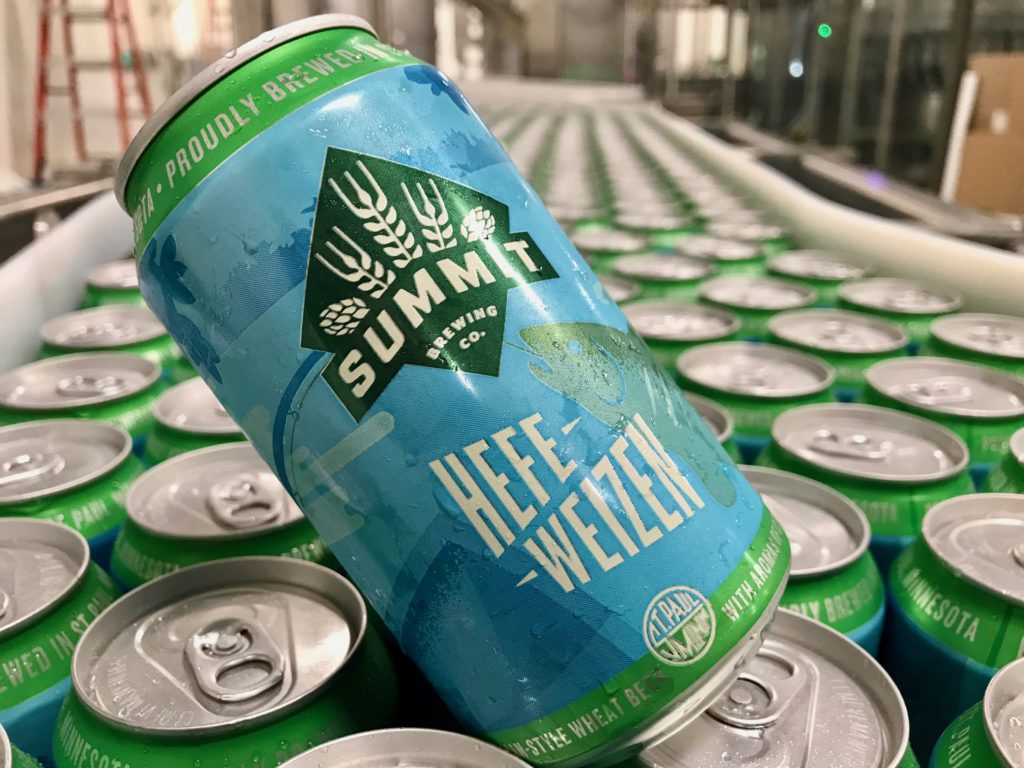 Back to News