Summit Brewing Co. Debuts Harvest Collection
Wednesday, August 9, 2017, By Summit Brewing
The Beers You Love Have a Brand-New Look
When was the last time you had all your favorite friends and family members gathered in one place? Was it for your second cousin's third wedding? Your buddy's birthday? Or was it when Uncle Pat finally moved back home from Minot, North Dakota?
If you've been waiting too long for a special occasion to roll around, wait no more: The Summit Harvest Collection is here. We've taken all your favorite Summit beers and dressed 'em up in a handsome new box — Summit Extra Pale Ale, Great Northern Porter, Pilsener, and our most popular seasonal, Oktoberfest. Sporting fresh flannel and fall's best flavors, this 12-pack of 12-oz. bottles is chillin' and ready to party. So light the grill, stack some maple or oak by the fire pit, and send out a group text or two. Shindig at your place.
Firewood, Friends and Fall's Best Flavors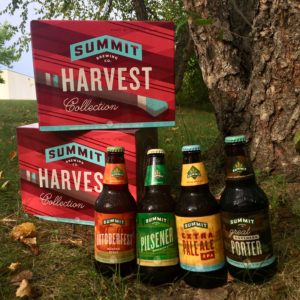 Featuring three bottles each of four classic Summit beers, the Harvest Collection variety pack showcases Summit's commitment to tradition and innovation. Summit Extra Pale Ale, for example, is the first beer our Founder and President Mark Stutrud brewed back in 1986. After 31 years, our flagship is also our most award-winning beer. Most recently, it received the 2016 Great American Beer Festival Gold Medal for Classic English-Style Pale Ales.
Summit Great Northern Porter, on the other hand, has a rich tradition all its own. Named and modeled after the dark, well-hopped beers first brewed in 18th-century London, Great Northern Porter was actually the first Summit beer to ever win an award — first place in the "Porters" category at 1987's Great American Beer Festival.
And while Summit Pilsener and Oktoberfest both have their roots in traditional recipes first brewed hundreds of years ago in Bohemia and Bavaria, respectively, we're proud to brew ours with old-world copper equipment, brand-new stainless-steel fermenters, and unique, modern ingredients, such as Moravian 37 barley. Featured in these two Summit beers — in addition to Summit Maibock — Moravian 37 is grown near Rugby, North Dakota, on a family farm owned by Mark Stutrud's cousins. No other beers use this barley, and to be frank, no other beers better represent our home: Grain Country.
With campfire season right around the corner, the beer situation is settled. All you have to do now is decide whether you actually want to share any.
The Summit Harvest Collection is available now, but only for a limited time. Find yours.
Back to News