St. Paul Oktoberfest: Sept. 15th-16th
Event Date:
September 16, 2017

Dates & Times:
Friday Sept. 15th: 4 p.m. – 10 p.m.
Saturday Sept. 16th: 10 a.m. – 10 p.m.
Location: Historic Schmidt Brewery, 882 7th St. West, St. Paul, MN
Summit Brewing Company is truly honored to be the Official Beer Partner of this year's St. Paul Oktoberfest.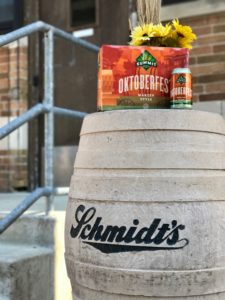 The St. Paul Oktoberfest is supported by a collaboration of the GAI (Germanic American Institute), the West End Fort Road Federation, and Bruce Larson, a St. Paul philanthropist and Europhile whose love of languages, history, and dressing up led him to launch the city's annual Oktoberfest festival in 2001.
This year's festivities kick off with a Beer Wagon Parade, featuring an appearance by Summit's Head Brewer Damian McConn, and we're extremely proud to announce that Summit Brewery will be its official 5 p.m. starting point. From here, the parade runs down West 7th Street and ends at the Schmidt Brewery.
But hey, let's get back to the beer… shall we? On-site will be a plethora of Summit suds. You'll find Summit Extra Pale Ale, Pilsener, Unchained 25: Vienna-Style Lager, and of course, Summit Oktoberfest! All are great options for washing down German fare from the GAI, Black Forest Inn, Burbach's European Pancakes, Venus Spaetzle, and Nuttin' Like It.
Someone pinch us. We must be dreaming!
Aside from all the amazing beer and food, you'll find more entertainment, activities, and polka music than you could shake a stick at. There'll even be wiener dog races, for crying out loud!
For more information regarding entertainment, activities, volunteer information, and more, please check out the official website of the Saint Paul Oktoberfest, and we will see you there!
Prosit!