Summit Beer Hall Release: Golden Fruited and Hefeweizen
Event Date:
April 26, 2018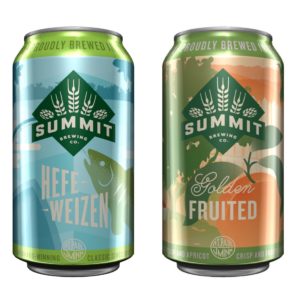 Date and Time: 2–9 p.m., Thursday, April 26, 2018
Location: Summit Beer Hall • 910 Montreal Circle, St. Paul, MN
Featuring aromas of passionfruit and mango from 100 percent Galaxy hops, plus notes of toast and bread from US, UK and Argentinian malts, Summit Golden Fruited is balanced by a hint of fresh peach and apricot. Summit Hefeweizen, on the other hand, returns to our seasonal lineup this year with notes of toasted breadcrumb, Tettnang hop spice, and familiar aromas of banana and clove.
Special: Enjoy a flight of all four Summit Boundary Waters Box beers for $8. This includes Summit Golden Fruited, Summit Hefeweizen, Summit Skip Rock and Summit Lazy Sipper.