Paul Bergeland and the QA Team's Bitchin' Beer Library
Wednesday, May 17, 2017, By Summit Brewing
In addition to working in Summit Brewing Co.'s Quality Assurance department, where he collects and analyzes beer samples and helps source and vet new ingredients for our beer, Lab Technician Paul Bergeland is also a librarian. A beer librarian.
What, you've never heard of a beer library? Well, wake up kids, it's time to go to school.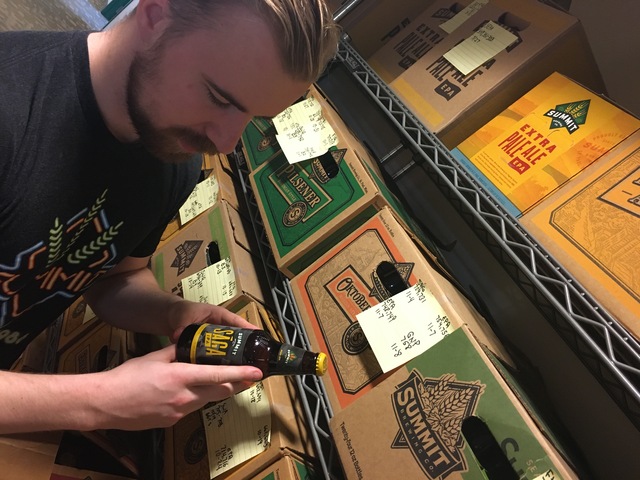 The Summit beer library, which is curated and maintained by our Quality Assurance team, contains two six-packs of every batch of beer we produce — everything from year-round beers like Summit Sága to seasonals like Summer Ale. One six-pack is kept in cold storage and one is kept in warm, and these bottles stick around for the duration of their shelf life, which is typically between 150 and 180 days.
OK, BUT WHAT FOR?
Simply put, "It's easy to make beer that tastes good fresh, but it's harder to make it taste good after three months. And we want to know what our customers are tasting," says Bergeland. After all, some people drink their beer fresh and cold, while others drink Summer Ale in December after they find it in the back of their room-temp cupboard.
"Though we'd love it if our beer were always stored cold and served fresh," he continues, "we can't control that. So, we conduct month-by-month verticals, tasting the beer and tracking how it ages in both settings. The differences are important."
The beer library proves beneficial, Bergeland says, especially when a customer complains about off-flavors. "When that happens, we pull that brand and batch from the library, taste it, go through our notes and brew data, and do a thorough check for quality."
HELPFUL ADVICE: In most cases, bad taste comes from warm storage. Stop doing that.
BONUS INFO: When you check beer out of the beer library, you don't have to return it and you never have to worry about late fees.
SPECIAL SKILLZ
Being able to detect, identify, and describe the differences between a Summer Ale warm-stored for two months and one cold-stored for four months takes an educated palate, and that job falls to Summit's Sensory Team. Always growing and changing, the Sensory Team is a collection of QA and other Summit employees who've been trained to perceive the slightest changes in flavors, aromas, and other properties. By tasting our beer as it's affected by different variables — heat, age, oxygen, infection, non-stainless components, dirty lines, etc. — they are able to gather descriptors, pair them with brew data, and help each other zero in on what a given beer, such as Summer Ale, should and should not taste like.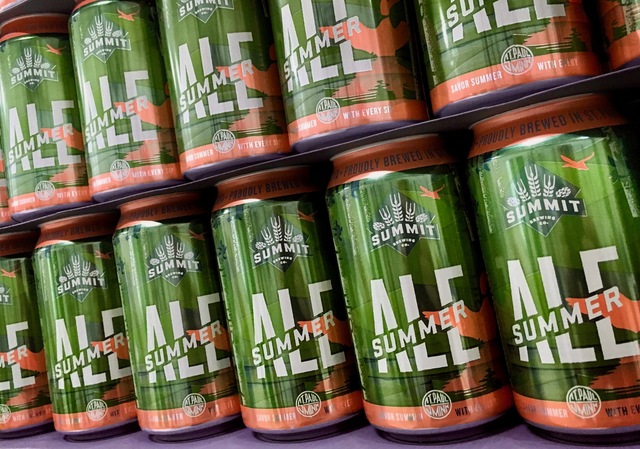 COME ON, DUDE. ANYONE CAN TASTE BEER
Contributing to the Sensory Team requires a significant time commitment and consistent practice to remain sharp. Additionally, Bergeland says, "We're all sensitive to different aromas and compounds. Some people, for example, can't stand black coffee; they need cream and sugar to balance out the bitter flavors. Similarly, these folks might not like bitter IPAs because they're extra sensitive to those compounds." As a result, the Sensory Team needs a deep bench to balance out the preferences of individuals, and all employees are encouraged to participate. "The more people we have tasting and describing Summer Ale," Bergeland says, "the more we learn about their abilities and about the beer.
Specific descriptions and accurate data are important to maintaining the consistent quality of all of our beers, but the Sensory Team's work is vitally important for a seasonal like Summer Ale. "We only brew it for part of the year," Bergeland says, "and by the time we brew it again, we don't have fresh beer to compare it to for consistency; those samples are expired. So, we rely on our data to help us reproduce the beer and give our customers what they expect."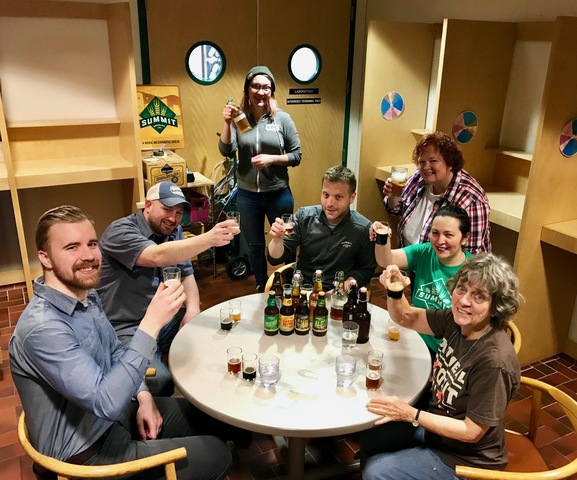 DON'T WORRY, THE SENSORY TEAM GETS TO TASTE FRESH BEER, TOO
The Sensory Team devotes a lot of time and effort to tracking changes in our packaged beer, but they get to taste fresh beer, too. In fact, its core purpose, Bergeland says, is to "release" beer, or verify that it's ready to be transferred from one package to another.
"Beer is released at two different points: first from the fermenter to the brite tank, and then from the brite tank to cans, bottles, or kegs."
Tasting beer at these release points prevents infections or bad ingredients from sneaking into the final beer, and it ensures that nothing is forgotten. (Like dry hopping. You don't want to forget the dry hopping.) In the long run, these proactive measures save money and protect consumers from bad beer.
Tasting beer this early in the game, however, poses its own challenges, such as: Sometimes the beer isn't quite ready. When tasting Summer Ale from the fermenters, for example, the Sensory Team encounters strong flavors and flaws they must learn to "taste through," Bergeland says, because they will disappear on their own before the final beer is packaged.
"Basically," Bergeland says, "if we taste things like sulfur, astringency, or low CO2 at this stage, it tells us the beer is on track and progressing as it should, and we know the flavors won't stick around much longer."
It's important, nonetheless, to be proactive with quality control, not reactive. By using only quality ingredients and testing for infections and dissolved oxygen, we can prevent and eliminate a lot of issues in-house. "But the further along you go," Bergeland says, "the harder it is to fix a mistake."
MORE BONUS INFO: We're not talking about infections that'll make you sick. Rather, these infections can affect the flavor of beer. Still a big No-No.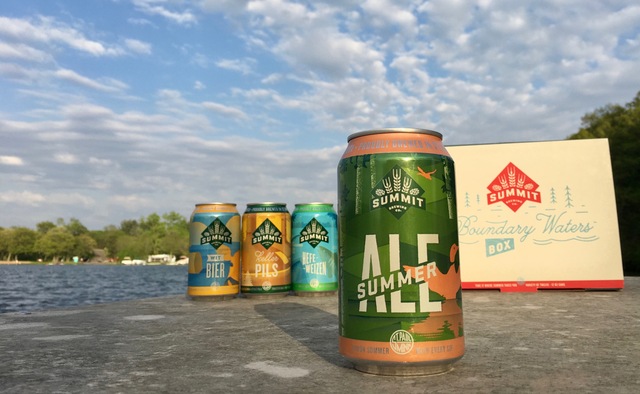 Want to learn more about our Quality Assurance team and the work they do? Take a load off, open another Summit beer, and read up on natural carbonation or yeast management.
Back to News