Start Summer Early with Summit Mixed Pack Dockside Edition
Monday, April 25, 2022, By Summit Brewing
If there's anything this year could use, it's more sunshine.
Spring has been off to a … slow start. With stretches of cold temps and cloudy days, it feels as if the warmer weather will just never arrive.
So, we're doing our part here at Summit Brewing Co. to help encourage, or at least emulate, the sunshine. We packaged up four citrus-centric brews in our latest variety pack: Summit Mixed Pack Dockside Edition.
That's right! Our Mixed Pack is getting a makeover and this summer it will feature four beers all with a citrus fruit at its center, two of which are exclusive to the pack!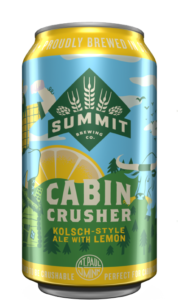 First fruit up: lemon. That's right! Cabin Crusher Kölsch-Style Ale with Lemon makes its return. A relative to Cabin Crusher Kölsch-Style Ale with Lime, this beer shines the spotlight on Meyer lemons. A refreshing Kölsch-style ale spiked with Meyer Lemon peel and puree, and brewed with lemon-forward hops like Loral and Lemon Drop, it is bright and tangy. Zesty and tart, it is highly crushable.
Next up is tangerine. Summit Slugfest Juicy IPA offers up succulent flavors of tangerine and melon combined with a powerful citrus hop punch. Unfiltered and unabashed, this IPA is low in bitterness but high in drinkability. It finishes clean and smooth.
Third up is grapefruit. This bold, bitter fruit is highlighted in yet another one of our IPAs: Summit Triumphant Session IPA. This low-cal, low-carb IPA, which clocks in at 95 calories, 3.5g of carbs and 4% ABV per 12oz serving, features tropical flavors of pineapple, grapefruit and apricot. Balanced with notes of breadcrust and light bitterness, it has all of the flavor of an IPA with none of the guilt.
Rounding out our list of citrus fruit is key lime! While dainty in size it is anything but in flavor! Featured in our newest brew, Summit Patio Perfection, this petite fruit packs a punch! The gose-style ale blends the sweetly tart notes of key lime with satiating sea salt flavors and experimental sour agents. A smooth malt body blends with unique hops to create a light, effervescent brew.
So, whether or not summer makes an appearance this year, you can grab a slice of sunshine by sippin' any of these citrus Summit brews.
Summit Mixed Pack Dockside Edition will be available in stores May 2022. Use our Online Beer Finder to locate it at a store nearest you!
Back to News