Summit High Sticke Alt Returns from Retirement for Limited Time
Tuesday, January 12, 2021, By Summit Brewing
The German altbier fan favorite hits the ice again for am extremely limited run in the Twin Cities only.
After 2020 pulled out all the punches we decided our starting line-up in 2021 needed to have a player at the head who was prepared to take some hits. So, for the first time since 2018, Summit High Sticke Alt is stepping off the bench and returning to the ice…or shelves, rather.
For an extremely limited time, High Sticke Alt will be available in 12-packs of 12oz cans in very select Twin Cities metro retail locations.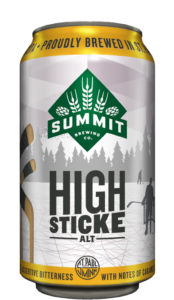 High Sticke Alt has a history of consistency, and not just within Summit Brewing Company.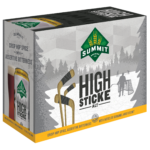 Inspired by the Altbier style famous to Düsseldorf, Germany, High Sticke Alt is an homage to a centuries old brewing style that includes warm fermentation and cold conditioning. "Alt" in German means old, which refers to the method of fermentation – warm fermentation was used before refrigeration.
High Sticke Alt also has a history of being a special beer made just for fans. "Sticke" in German means secret. This is a nod to the special-occasion beers brewers would make for themselves and their favorite customers. Being sticklers for tradition ourselves, brewing this again was a no brainer.
"Summit has a long-standing history of brewing traditional German styles, and the Altbier was one of our first," Head Brewer Damian McConn said. "Before Summit Oktoberfest was created, a traditional Altbier was Summit's fall seasonal. When we released High Sticke Alt we wanted to make a version of the Altbier that offered a more significant spicy and floral hop profile, while still keeping a strong malt backbone. With a longer period of cold maturation, what results is a smooth and crisp brew."
At Summit, High Sticke Alt's history is a bit shorter. First brewed in 2017 as a limited-edition beer and brought back again in 2018, we've kept the recipe the same.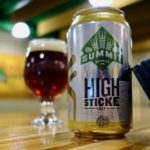 Deep copper in color, it has big stone fruit and toffee aromas, a spicy hop flavor and assertive bitterness. A complex blend of German malts offers notes of toast, biscuit and caramel. Traditional German ale yeast, warm fermentation and a longer period of cold conditioning create a clean, crisp, highly-drinkable beer.
Summit High Sticke Alt will be available for a very limited time in 12-packs of 12oz cans in very select Twin Cities metro area locations. So, fans of this rugged brew, locate the Twin Cities retailer nearest you in hopes you can stock up before it's gone.
Back to News