Celebrate the Repeal of Prohibition!
Tuesday, April 3, 2018, By Summit Brewing
April 7, 2018: 85 Years Since the Repeal of Prohibition
Here's Some History
Back in 1919, the United States of America ratified the Eighteenth Amendment to its Constitution, bringing about the prohibition of alcohol. We honestly have no idea what they were thinking.
Mistakes Were Made, and Then Remedied
Fortunately, on December 5, 1933, the USA reversed course and ratified the Twenty-First Amendment, repealing prohibition and once again making it legal to possess and consume alcohol. This is no small thing!
Celebrate the Repeal of Prohibition…
Many folks celebrate Repeal Day each year on December 5th, choosing to acknowledge the date when the Twenty-First Amendment was ratified by the states. Here at Summit Brewing Co., however, we celebrate Repeal Day on April 7th — the date when, in 1933, President Franklin Delano Roosevelt signed the Volstead Act into law, legalizing 3.2 percent beer.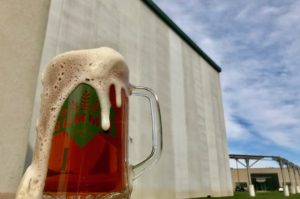 …With Beer!
Another reason we recognize Repeal Day on April 7th is because it's also National Beer Day. First celebrated in 2009, this beautiful beer holiday also has its roots in the repeal of prohibition and we feel the dual celebration is just too irresistible to pass up. Besides, we don't want to wait another eight months to celebrate in December.
The Summit Brewing Co. Repeal Day Poster
Each year since 2009, Summit Brewing Co. has recognized the Repeal of Prohibition by partnering with a Minnesota artist to produce a limited-edition, commemorative screen-print poster. This year, to mark the date's 85th anniversary, we've teamed up with Minneapolis artist and graphic designer Ross Bruggink. A 2008 graduate of the University of Minnesota, Bruggink describes his design aesthetic in a recent Growler Magazine profile as "mathematically organic." In addition to creating our rad 2018 Repeal Day Poster, Bruggink has also worked with Faribault Woolen Mills, Red Wing Shoes, and the Minnesota Vikings.
This year's colorful and thirst-provoking Repeal Day Poster is available for purchase only in person at the Summit Beer Hall Gift Shop. Posters are priced at $30, and each comes signed and numbered. They're limited, too, so visit us Saturday, April 7th for your best shot at taking one home. We'll even throw in one free pint with each poster you buy.
Finally, stay tuned to Summit Brewing Co. on social media, where we'll be giving away a few posters to some lucky beer fans on April 7.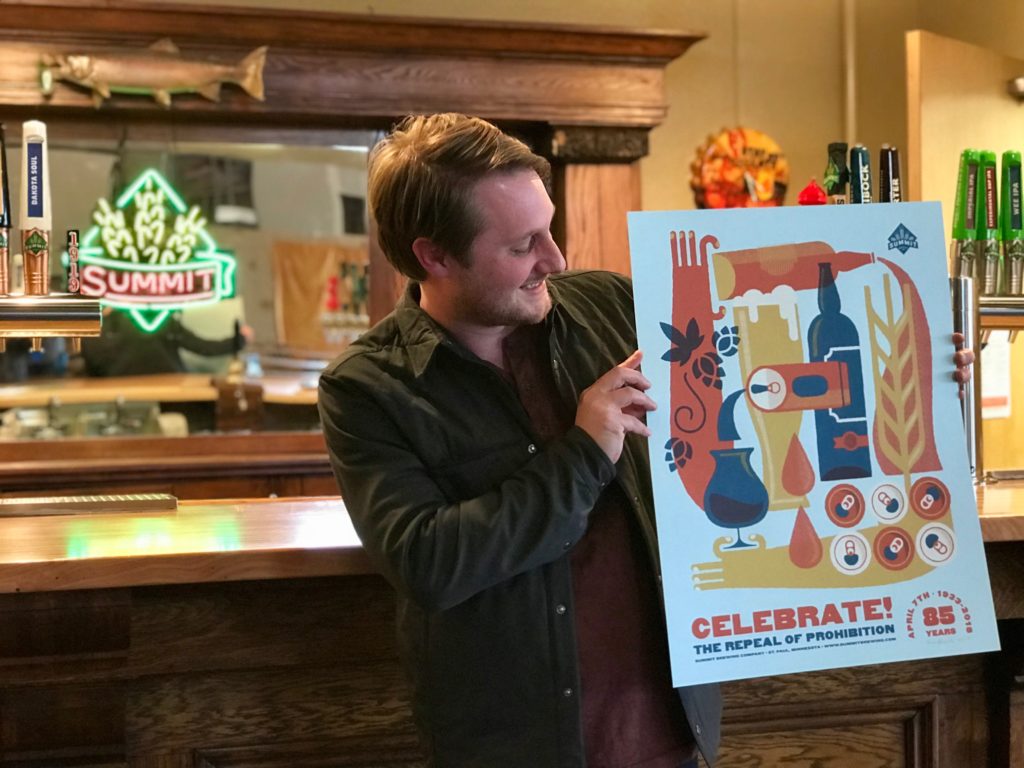 Back to News