Summer Seasonal Cabin Crusher Kölsch-Style Ale with Lime Offers Lakeside Escape
Wednesday, April 21, 2021, By Summit Brewing
Escape to Cabin Country any time with Summit Cabin Crusher!
After a year like 2020, we all could use a getaway! While there still may be some physical restrictions for travel, we here at Summit Brewing Company think we may have something that can help – Summit Cabin Crusher Kölsch-Style Ale with Lime. Take a sip and let it instantly carry you off to cabin living.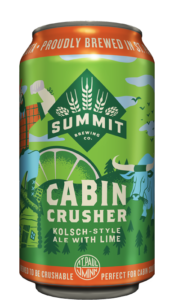 Lightly hopped and brightly carbonated, this hazy Kölsch-style ale has flavors of sweet honey, bready biscuit and tart lime. All the aromas of summer. Brewed with a combination of Lemon Drop and Loral hops, plus lime peel and puree, this brew has big, bold citrus flavor that will instantly transport you to the dock. It's effervescent mouthfeel and smooth finish make it an incredibly easy-drinking ale that will remind you of boat rides and bonfires.
Whether summer means weekend trips to the cottage or just warm days around water, Cabin Crusher Kölsch-Style Ale with Lime is the perfect companion. We've even made it available before the official start of the season so you can revel in memories of sunshine and heat as the calendar catches up. So, grab a coozie, crack open a can and retreat to relaxation.
Summit Cabin Crusher Kölsch-Style Ale with Lime is available in 6- and 12-packs of 12oz cans and on draught at select locations. Grab some from your local liquor store or bar/restaurant starting mid-April!
Back to News