WHAT THE HECK IS A STAMMTISCH
Sunday, August 12, 2018, By Summit Brewing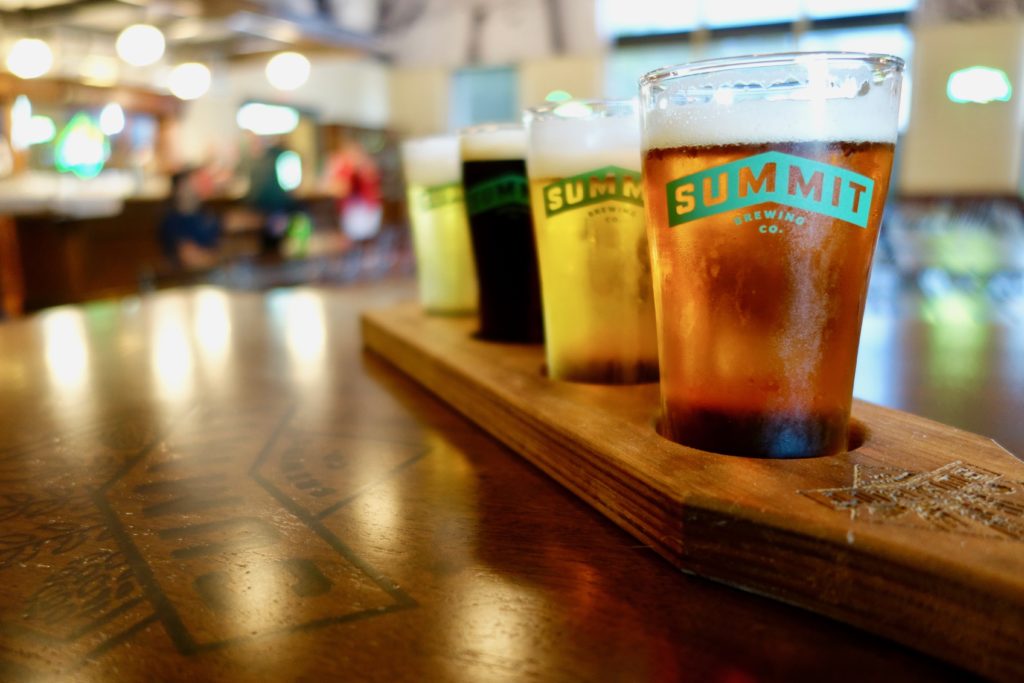 FOR THOSE OF YOU WHO DON'T SPEAK GERMAN
The Germans have a fun word for Beer Lovers. They're called "Bierliebhaber." The Germans have a fun word for taverns and beer halls, too — as you may know, that's where the name for our Ratskeller comes from. Inspired by these warm and welcoming German-style beer joints known throughout the world, the Summit Ratskeller serves up Summit Brewing Co.'s lineup of year-round, limited and exclusive beers — all brewed fresh, locally and independently in our authentic, all-copper German brew house.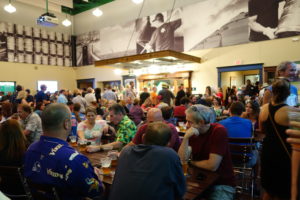 Our appreciation for Germany's age-old, beer-loving tradition extends beyond our beer and brew house, of course. Since wrapping up our renovations and grand reopening last month, we've extended the theme to include the brand-new, sturdy and comfortable furniture in our Ratskeller. (Yes, the old cafeteria-style tables are gone!)
THIS IS A STAMMTISCH
Take the Stammtisch, for example. Known in small-town pubs and taverns as "The Regulars' Table," the Stammtisch is where a bar's most frequent visitors gather with staff, family, good friends and — by invitation only — kind strangers. Gathered 'round this table with beers in hand, the regulars discuss whatever the heck they want — high-brow, low-brow, the quality of sports referees, film and literature, politics, family, food, where to find a good taxidermist, jet stream fluctuations, outstanding civic issues, footwear trends, shoot, maybe they even talk about beer.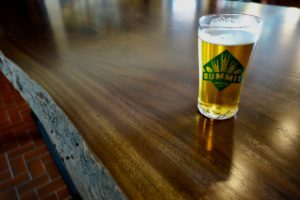 Built from a giant slab of black walnut sourced by Minnesota Milling in Farmington and designed and constructed by JD Woodcraft in Lakeville, our Stammtisch at the Summit Ratskeller is engraved with the Summit logo and the word Stammtisch — first CNC inlaid, then stained, sanded and clear epoxied so it'll last. You know, to keep the riff-raff away.
Brought in to provide a place for Summit Brewing Co. employees to gather after clocking out for the day with their friends and family — and maybe a special few invited guests — the space and people around the Stammtisch itself are more important than whatever fleeting topic of conversation might rule the hour. This is where we let loose, get comfortable, enjoy a couple beers, and pick on the new guy on the canning line. This is where we air out new ideas and grievances. This is where we pick each other up and, when need be, put each other in our place.
Now, nobody needs a special table to stand around BS-ing with their pals, of course. Thing is, though, the employees here were always doing this at the bar, and that made it kind of hard for visitors to get the bartender's attention. #MakingImprovements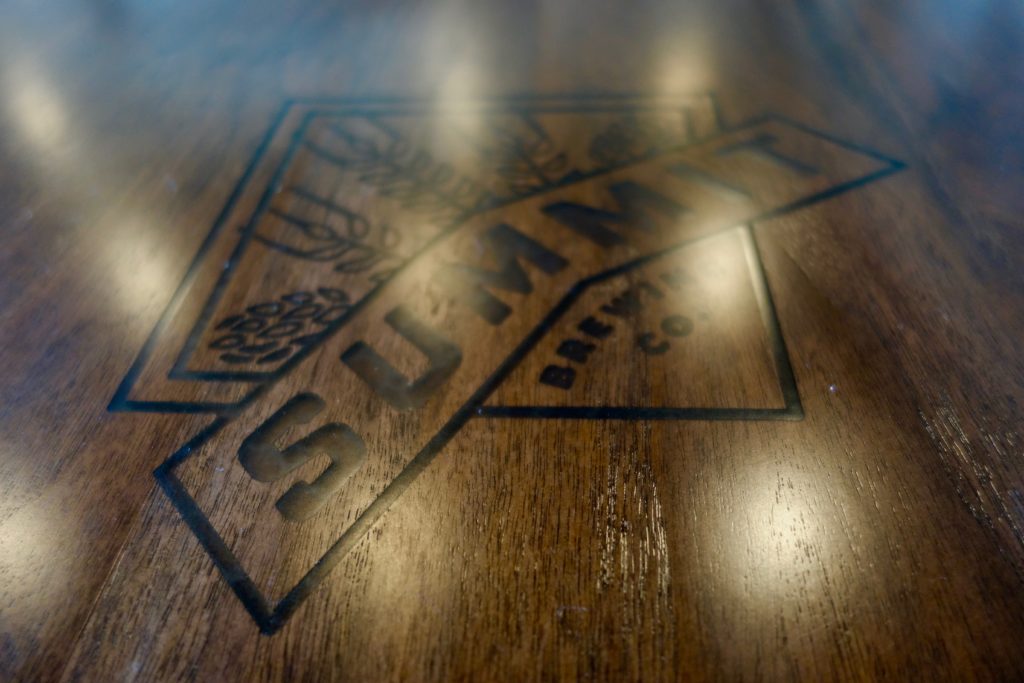 IF YOU AREN'T INVITED TO THE STAMMTISCH, THERE'S STILL A PLACE FOR YOU
And because we want our visiting Bierliebhaber to feel welcome at the Ratskeller (even when we're shooing them away from a private table), we've scattered four additional black walnut high-top tables throughout the room, providing space for one and all to stretch their legs and let loose their tongues while sipping on lagers and ales.
IF YOU DON'T LIKE STANDING, THERE'S STILL A PLACE FOR YOU
But what about those folks who prefer sitting down? We hear you. We hear you. For you, we've filled the rest of the room with brand-new tables and chairs made from dark chestnut by Gemeinnützige Werkstätten und Wohnstätten out of Germany. Shipped via ocean steamer to New York, then by rail to Chicago before the trip's last leg via truck, they are literally here to make you so comfortable you stay longer than intended, drinking an extra beer or two even when you really need to get home to the yardwork. Because the yardwork, Friends, can wait.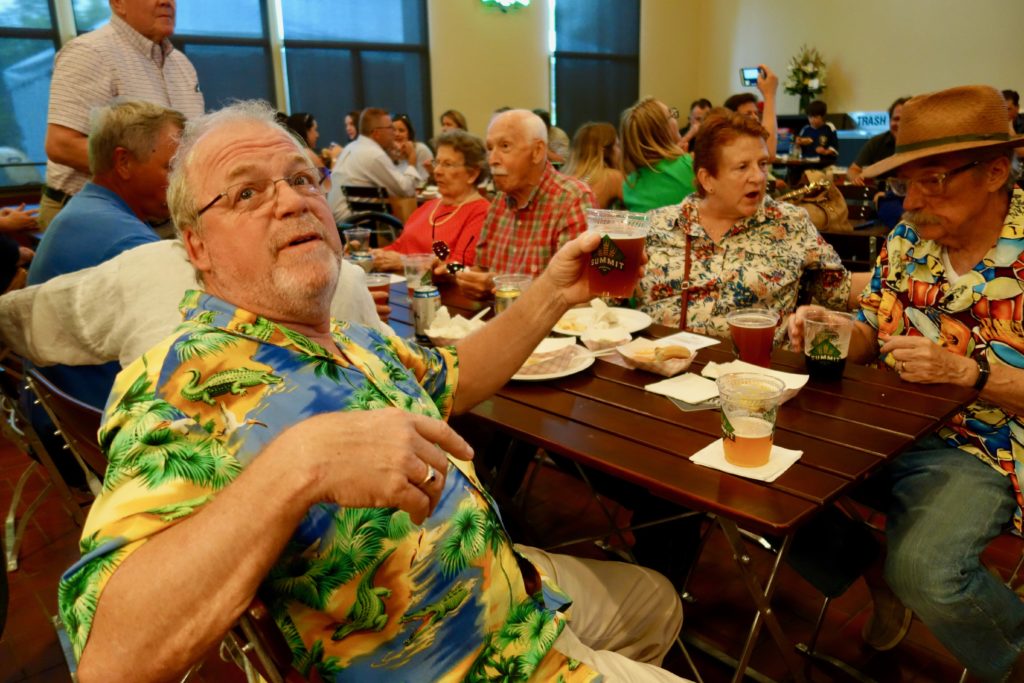 DRINK ALL THE BEERS
Last but not least, whether you're standing at the Stammtisch, stretched out at the tables and chairs, or lounging on our lovely shaded patio, we've introduced one simple, final touch to make it all the easier for you to taste your way through our lineup of beers: Custom flight paddles. Carved from black walnut just like our Stammtisch and high-top tables, they carry four 7-oz. servings at a time, and there's no reason why you can't fill up one paddle for each hand. After all, there's beer to drink, and you're a Bierliebhaber now.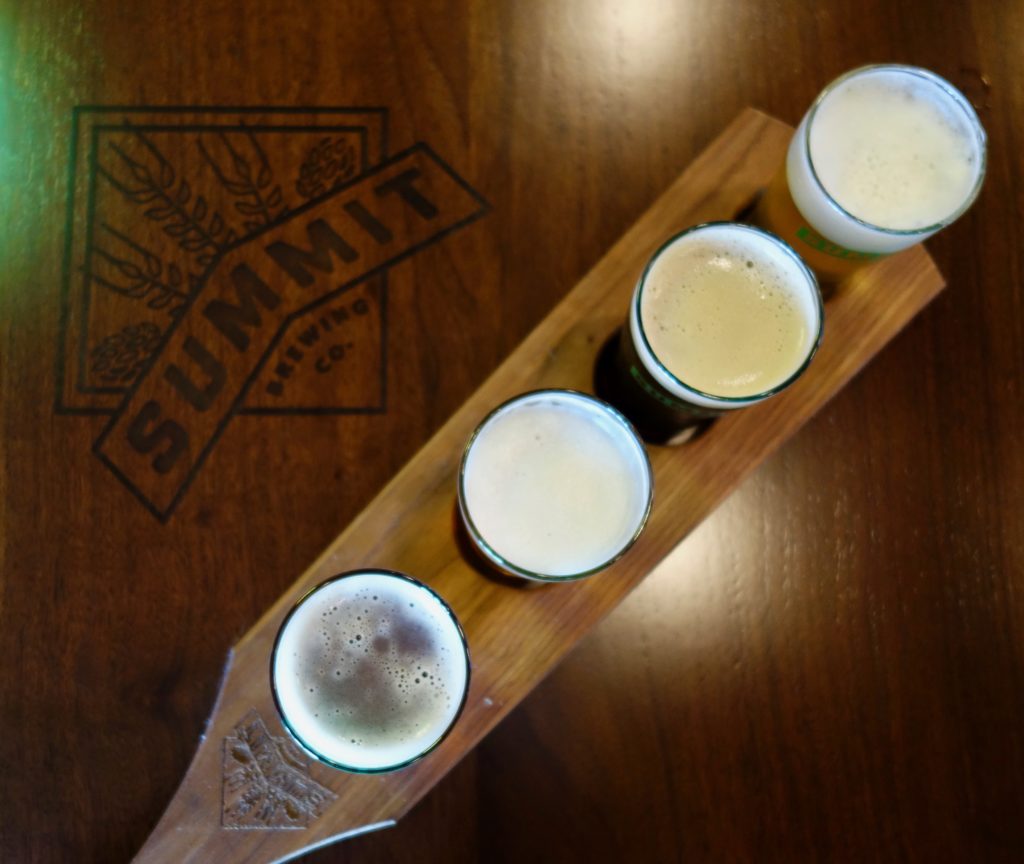 HOW TO ENJOY YOUR TIME AT THE SUMMIT RATSKELLER
Pretend you're drinking beer at one of those warm and welcoming German-style taverns or beer halls
Look around and realize that's actually exactly what you're doing
Remember: An empty pint glass creates bad luck
We have no idea if that's true, but it's better not to test it
Prost!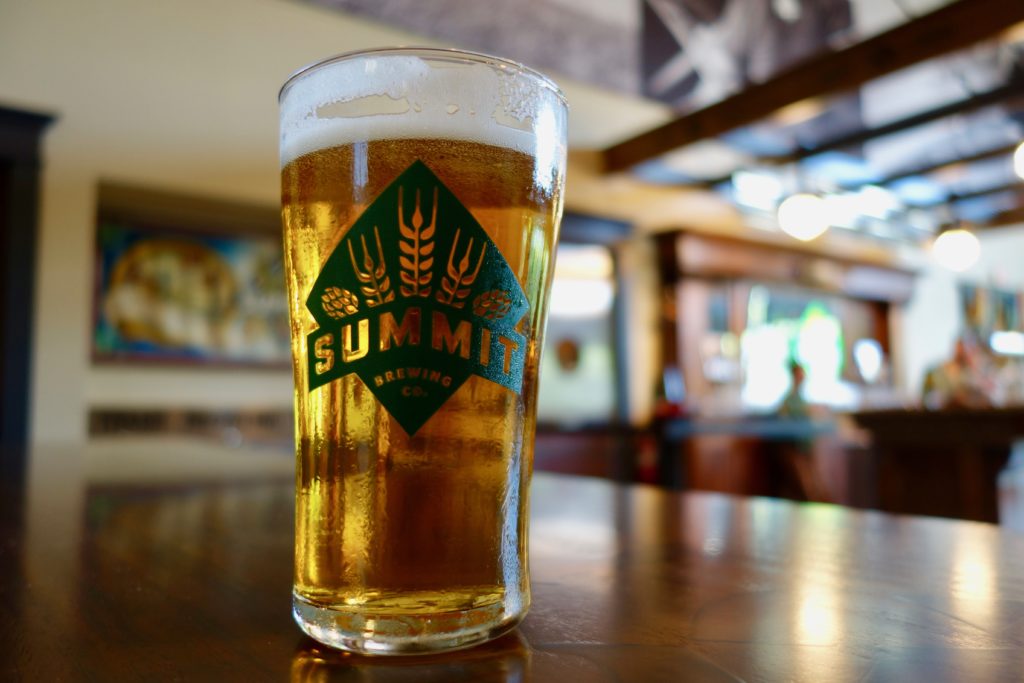 Back to News