The Latest From Summit Brewing Co.: The Local's 20th Anniversary Ale
Tuesday, January 9, 2018, By Summit Brewing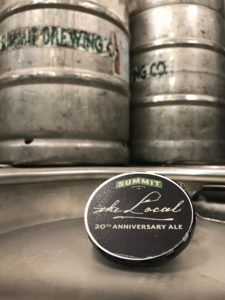 Hello Lads and Lasses!
Unwilling to face the long, cold months ahead all alone, Summit Brewing Co. has cozied up with The Local to brew a special beer in celebration of the Minneapolis pub's 20th Anniversary. Known simply as The Local's 20th Anniversary Ale, this limited, draft-only brew is available now, only at The Local.
With a warming ABV of 5.5% and low bitterness at 33 IBU, the 20th Anniversary Ale is an American Golden Ale in style, featuring hop flavors and aromas of lemon-lime, mango, watermelon, orange zest, apricot and flowers. Additional notes of toast, bread crust, sourdough, toffee and caramel come from a strong malt foundation, while extended cold conditioning ensures crisp and refreshing drinkability.
"Traditionally the finest pub in every Irish town and village is referred to as 'the local,'" says Summit Brewing Co.'s resident Irishman, Head Brewer Damian McConn. "And being as The Local is a fine Irish establishment right here in our own Twin Cities, we thought it appropriate to source some local ingredients for this beer."
Brewed with a bit of wheat and premium European heritage malts from Weyermann in Germany, Simpsons in the UK, and pale malt from the Malting Company of Ireland in County Cork, Summit's collaboration with The Local also features a bit of base malt from Rahr Malting Co., located just down the road in Shakopee, Minnesota.
Michigan Copper hops, which you might remember from Summit's 2017 collaboration brew with The Suburbs, blend with Motueka hops from New Zealand, and Crystal hops from our friends at Mighty Axe in Ham Lake, Minnesota.
"This combination of old world ingredients and local ones from here in the new world leads to a hop-forward ale with really nice lemon-lime aromatics," says McConn, "and we're excited to send a few kegs to our friends at The Local."
"They've always been great partners for Summit beer," McConn continues, "regularly serving our Extra Pale Ale, Sága, and seasonal beers like Winter Ale. This Anniversary Ale might not last too long there."
Peter Killen, CEO of Cara Irish Pub, the restaurant group that includes The Local, is also excited to serve up the exclusive Summit beer. "To make it 20 years in any business, you've got to have good partners — people you enjoy working with," says Killen. "I've been serving and enjoying Summit beers since I came to The Local 18 years ago, and I can't remember a bad pint."
"On top of that, Damian's made a really nice beer with some good Irish malt, and I think we'll burn through it pretty quick."
So, what do ya say, Folks? Do ya fancy a pint?
Make sure to visit The Local in Minneapolis this month — before this beer runs out — and let's all raise a pint of Summit's freshest creation, The Local's 20th Anniversary Ale, as we toast to another 20 years of good friends, good partners, and good beer. Sláinte!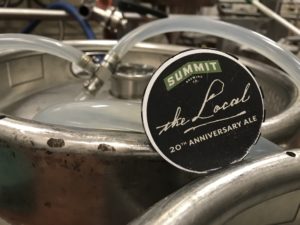 Back to News