Meet the Summit Brewing Company Team: Quality Manager Zach Quandt
Monday, January 31, 2022, By Summit Brewing
At Summit Brewing Co. everything comes second to quality. Our company is built upon the pillars of consistency and precision. We pride ourselves on our reputation to continually create traditional brews that taste the same whether you pour one fresh from our draught lines or from a can at the back of your fridge.
Quality is so integral to our mission that we have a whole team devoted to it – the Quality Assurance Team. This team of chemists, microbiologists, sensory and tasting experts and otherwise respected brewing-industry veterans spends their days testing and analyzing each batch of beer we brew to ensure it's up to our standards.
So, now that we've met some of those who brew the beer, let's meet those who test the beer. At the head of our QA team is QA Manager Zach Quandt.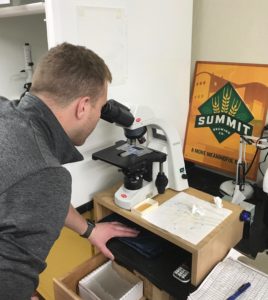 Let's start at the beginning! How did you come to work in Summit's quality lab?
Aside from the beer? The amazing team and culture drew me in. Quality is a discipline and it's at the heart of what's happening at Summit. There's tremendous integrity of ingredients and process, as well as ownership. After an early career working in biomed science, a Summit teammate and friend introduced me to the role. The rest is history.
The beer certainly helps draw folks in! Of course, having a connection to a company's mission and team also never hurts! In your role as the Quality Manager, what does a "normal" day look like for you?
Quality beer starts with great ingredients, good brewing practices and following established brewing, packaging, cleaning procedures. On any given day the Quality Team is responsible for measuring, sampling, testing and tasting in order to make sure all of those ingredients, practices and procedures are performing as they should, they're as effective as intended, and the end result is a beer that we're proud to call Summit.
You've already touched on why the work a quality team does is imperative for good beer, but why is it important for a brewery to have a whole quality lab in-house?
Our work is as much about protecting the consumer as it is about flavor. I can make a mean slow cooker chili in my kitchen, but do I want to make it for thousands of people and serve it in a store? This same consideration for flavor and food safety should be built into the culture of every brewery.
Investing in quality ensures the health of both our beer as well as our business. It's the best way to guarantee the beer we get out the door is consistent, reliable and dependable – not just for customers, but for our distributors and retailers.
That's a great way to look at it! So, what does "quality" mean to you?
It means the EPA, Saga, Keller Pils or Winter Ale you get on tap at your local bar tastes as balanced and fresh as the one from the restaurant down the street – the exact same as the one you sipped out of a can this summer – and equally as delicious as the EPA you poured from a bottle this fall. 
Given with how closely the Quality Team interacts with the beer, how would you explain the ways in which the Quality Team and the Brewing Team overlap?
Few breweries have quality departments that are this fully integrated. Through mash, sparge, boil, pitching yeast, fermenting, filtering, packaging and more, the Quality Team collaborates with Brewers and Production. From an in-depth analysis of every beer and the flavor profiles to specific gravity at different points during fermentation, baking quality into all our processes allows us to comply with state and federal regulations and ensure each beer develops exactly as expected. 
I think many people don't realize how much goes into brewing beer outside of just putting the ingredients into a kettle! That said, what else do you think people misunderstand or misinterpret about your role/the role of a quality lab in a brewery?
People tend to think of quality in terms of "quality control" where the production team is simply "beer police" who wait until a problem arises in order to address it. It's limiting. The model we have in place at Summit is really more about "quality assurance," where the process is preemptive and predictive.
Quality isn't an accident. It requires serious work – on behalf of the whole brewery. Yeah, Summit employees get to sample pints every day, but we do it out of respect for all the hardworking people who enjoy our beer just as much as we do. And if there's something wrong with the beer you take home, it's too late for us to prevent the problem. That's why we've built quality into our brewing process. Instead of merely troubleshooting, we stress quality and consistency at each and every step.
I think that is certainly what has helped Summit grow into the business it is today! Given we started a bit before the boom, how do you think Summit has helped define craft beer?
Summit put craft beer in the hands of your average drinker long before anyone thought it was a realistic goal and let them know it's a brand they can rely on. 
What challenges do you think Summit faces as craft beer continues to grow? What about the industry as a whole?
The marketplace can be difficult to navigate with so many options. For Summit, the challenge is to continue to stand out by sticking to the values that make us who we are and by continuing to innovate and offer new ways to enjoy a Summit beer.
For the industry as a whole, the challenge is to continue to get people to reach for a pint or a can of beer as opposed to other options. As part of that effort, breweries must show consumers they can feel confident in making that choice again and again.
Which, in the end, can come back to the quality of the beer! It's is consistent then it's worth the reach each time. So, with all the work the Quality Team does what would you say is your favorite thing about your job? What do you love about working at Summit?
We have a great team here and we get to make something people (including me) really enjoy consuming – something people feel passionate about. Try bringing Summit beer to your next party, grill out, or holiday get-together.  It never disappoints – it just doesn't happen. It's a cool feeling.  I helped make that.
That is a really cool feeling and definitely something to be proud of! When you reach for a Summit, what do you grab? Why?
I like to sample everything, but keep coming back to Keller Pils.  I love the balance and nutty malt.  Fit for any season and any occasion.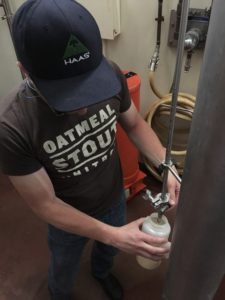 Back to News