Open Minds, Parched Throats Needed for Summit Nonalcoholic Beer
Event Date:
November 24, 2019
Date: Thursday, Nov. 21 – Sunday, Nov. 24, 2019 
Location: Summit Ratskeller • 910 Montreal Circle, St. Paul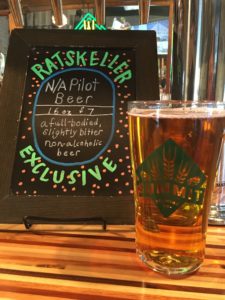 Consider yourself an experimental beer drinker? Then we have a brew for you!
This weekend, give our exclusive Summit Nonalcoholic Beer a try. We've combined our traditional brew techniques with new technology to create a flavorful option for those nondrinkers. Full-bodied and slightly bitter, this brew has flavors of pear, Honeycrisp apples and pie crust. After all, just because it's nonalcoholic doesn't mean it shouldn't still taste great!
This limited brew will be on draught in the Summit Ratskeller Nov. 21 – 24, or until it is gone. And, this weekend, in exchange for your online feedback, we're offering a FREE 4 oz. taster. Join us to explore this new brew and share your thoughts!