Summit High Sticke Alt Returns, Only Inside the Penalty Box
Friday, October 26, 2018, By Summit Brewing
After an all-star debut in 2017, League MVP Summit High Sticke Alt has agreed to terms for the 2018 season with Summit Brewing Co.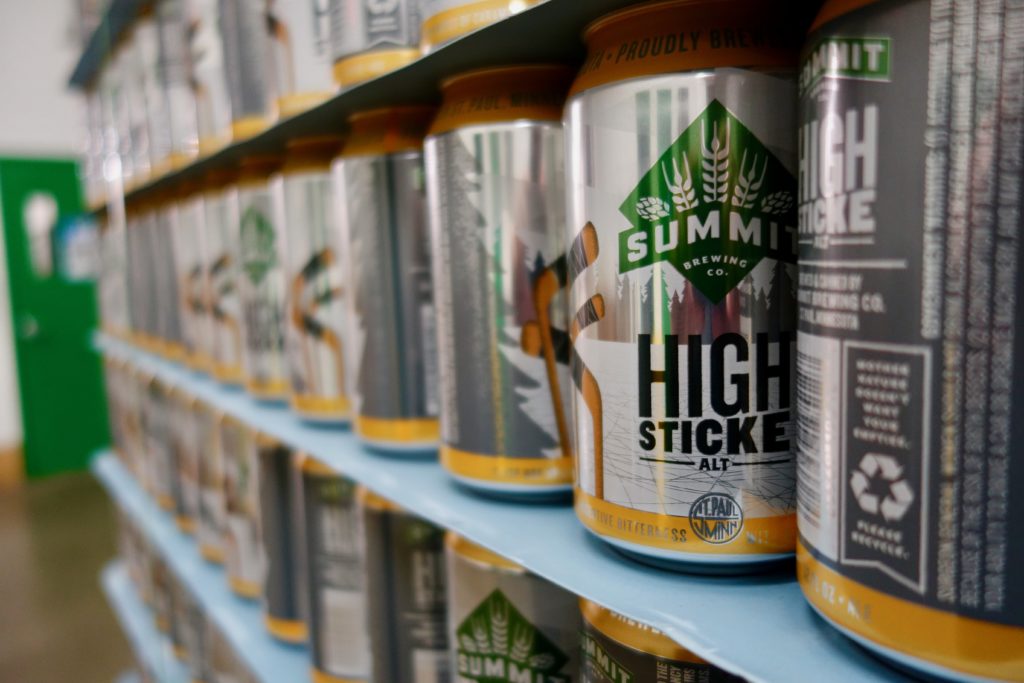 Howdy, Beer Lovers. Y'all remember Summit High Sticke Alt? Let us jog your memory: Released in October 2017 on draft and inside the Penalty Box variety pack, our High Sticke was a limited-release beer featuring big aromas of stone fruit and toffee, plus a slap shot of spicy hop flavor and assertive bitterness. And people enjoyed the hell out of it, on and off the ice. See below:


Well, Jason from BeerAdvocate and Greg D. from Untappd, we've got some good news for you and your friends: High Sticke Alt will return any day now to draft lines and store shelves inside an *updated* version of the Summit Penalty box — now a variety pack of 12-oz. cans featuring Summit High Sticke Alt alongside Dakota Soul, Sága IPA and Winter Ale.
And if you've been paying super-close attention, you might have noticed the beginning of a trend here: We release a limited beer, you love it and ask for more, and we listen. It happened early this year with Keller Pils, it happened last month with Dark Infusion, it happened earlier this week with Winter Ale, and Holy Hannah, now it's happening again with High Sticke Alt.
You see, when it comes to deciding which beers to brew and package, your feedback plays a huge part. Plus we like reading it, too. The good stuff goes up on Mom's fridge!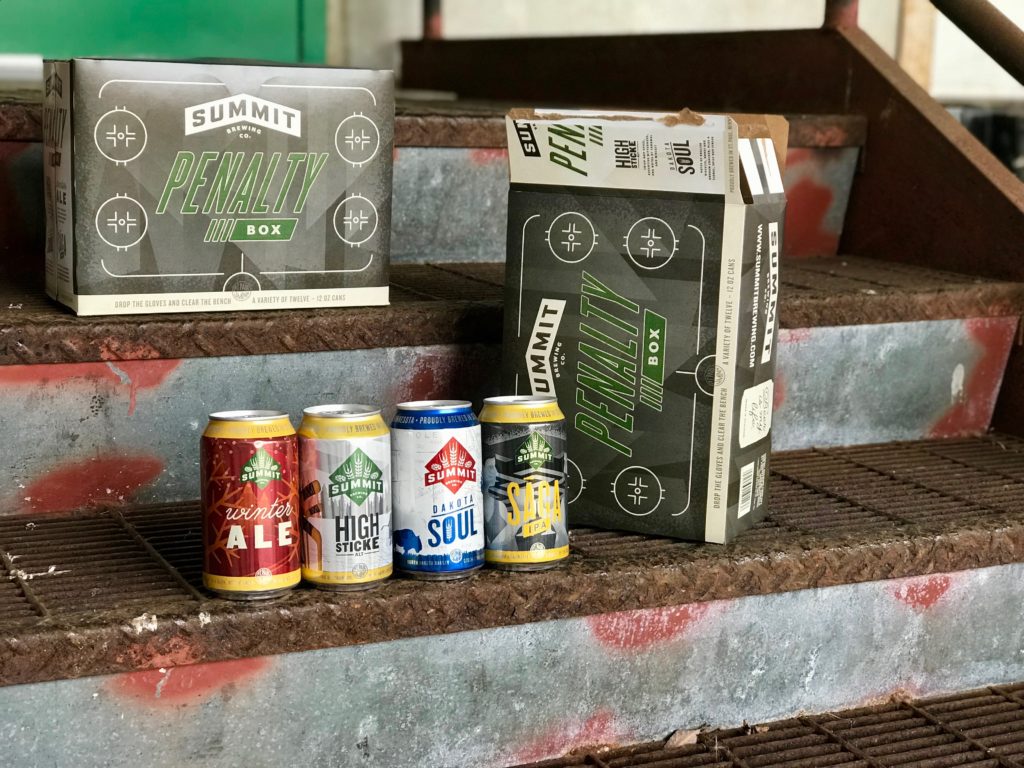 As for the beer going INSIDE the fridge: After an all-star season in 2017, High Sticke is back to run the rink again this year. Cross-checking, throwing elbows, talking trash — the beer just does what needs to be done. Deep copper in color, traces of toast, caramel, and biscuit come from a complex blend of German malts, while a huge hop load and a long period of cold conditioning result in crisp, refreshing drinkability.
Inspired by the Altbier style famous to Düsseldorf, Germany, High Sticke Alt has roots that go back centuries. "Alt" is literally German for old, referring to the beer's method of fermentation, and "Sticke," on the other hand, means secret — a nod to the special-occasion seasonal beers brewers would make for themselves and their favorite customers.
Altbiers have some history with Summit Brewing Co., too. In fact, says Head Brewer Damian McConn, "Summit has a proud association with Altbier. Before our Oktoberfest was created, a traditional Altbier was Summit's fall seasonal. This iteration, with its significant spicy and floral hop notes, will offer remarkable drinkability and smoothness from a longer period of cold maturation."
With all this talk of tradition, we ask: Why not make drinking this beer your after-work tradition starting now and running the whole way through hockey season? If you're on board, let's drop the puck and get things started Thursday November 1 at the Summit Ratskeller. Summit Winter Ale will be debuting, too, so come thirsty.
Summit High Sticke, Winter Ale, and the rest of the Penalty Box will be landing in stores pretty much immediately. Find the variety pack here.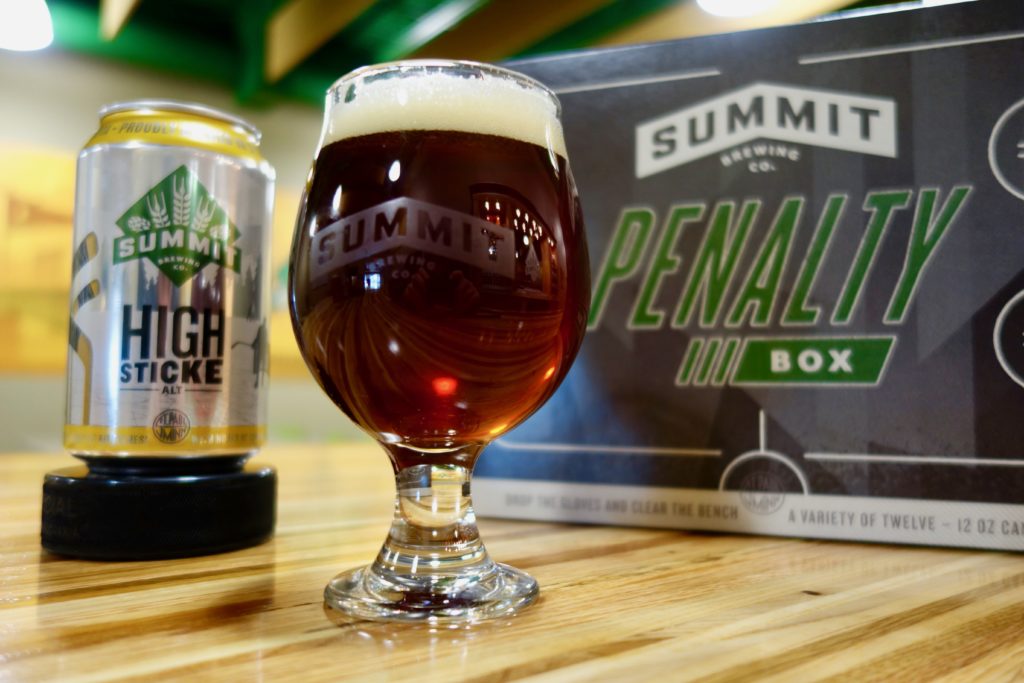 Summit High Sticke Alt: The Stats
ABV: 6.5%
IBU: 55
Color: Deep Copper (34 L)
Malts: German Pilsener Malt, German Vienna Malt, Munich Malt, German CaraMunich, Caramel
Hops: Northern Brewer, Tettnang
Yeast: German Ale yeast
Serving Tips: Serve at 44–48ºF in a tapered Becher glass alongside smoked cheese, a Reuben sandwich, German sausages, or everyone's favorite: Goulash.
Back to News