Summit Dark Infusion Set to Launch in Early October
Tuesday, September 25, 2018, By Summit Brewing
Our Smoothest, Boldest Brew is Back by Universal Demand
THE STORY
From St. Paul to South Dakota, from Des Moines to distant stars — for nearly two years we've received transmissions from across the galaxy. << PLEASE MAKE MORE DARK INFUSION – OVER >> Well, Folks, we heard you screaming: More Summit Dark Infusion is on the way, and the countdown is on for early October.
First brewed in late 2016 as a limited, one-time-only beer, Summit Dark Infusion — the only Summit Unchained Series beer we've ever brought back — now returns due to universal consumer demand. It comes in peace for all mankind.
THE FLAVOR EXPERIENCE
A rich, full-bodied imperial milk stout with sweet, roasted notes, Dark Infusion features a gravity-defying grain bill of six different malts plus kettle additions of lactose for additional sweetness and body. Balanced by Pilgrim and Fuggle hops from the U.K., renowned throughout the cosmos for their rounded bitterness and spice, Dark Infusion is made even bolder and more complex with the infusion of smooth, cold-brewed coffee at the time of packaging — with the Milky Way's best Brazilian beans provided by Saint Paul's Blackeye Roasting Company.
"Complemented by coffee rather than overpowered," says Summit's Head Brewer Damian McConn, "traces of caramel, graham cracker and dark chocolate round out the flavor profile" of this highly anticipated and limited beer.
THE LAUNCH
Summit Dark Infusion will debut Thursday, October 4, at the Summit Ratskeller. Available on draft and soon after in 6-packs of 12-oz. cans, Summit Dark Infusion will boldly embark on its interstellar liquor-store journey beginning the first week of October. Due to the dangers posed by black holes, supernovas and unexplained extraterrestrial activity, our coffee milk stout will make just one elliptical orbit during this solar year. Please make sure to get yours before it's gone.
Summit Dark Infusion

ABV: 8.5%
IBU: 40
Original Gravity: 21ºP
Color: Jet Black (80 L)
Malts: Stout Malt, Brown Malt, Perla Negra, Midnight Wheat, Torrified Wheat, Flaked Oats
Hops: Pilgrim, Fuggle
Kettle Additions: Lactose
Other Additions: Infused with cold brew coffee at packaging
Yeast: UK Ale
Serving Tips: Serve at 44-48ºF in a Spiegelau Stout Glass. Pair with brunch foods such as pancakes, waffles, sausage, and fried chicken if you are still hungry. Enjoy as a dessert beer or with fruit pies, freeze-dried astronaut ice cream, bread pudding, and crisps.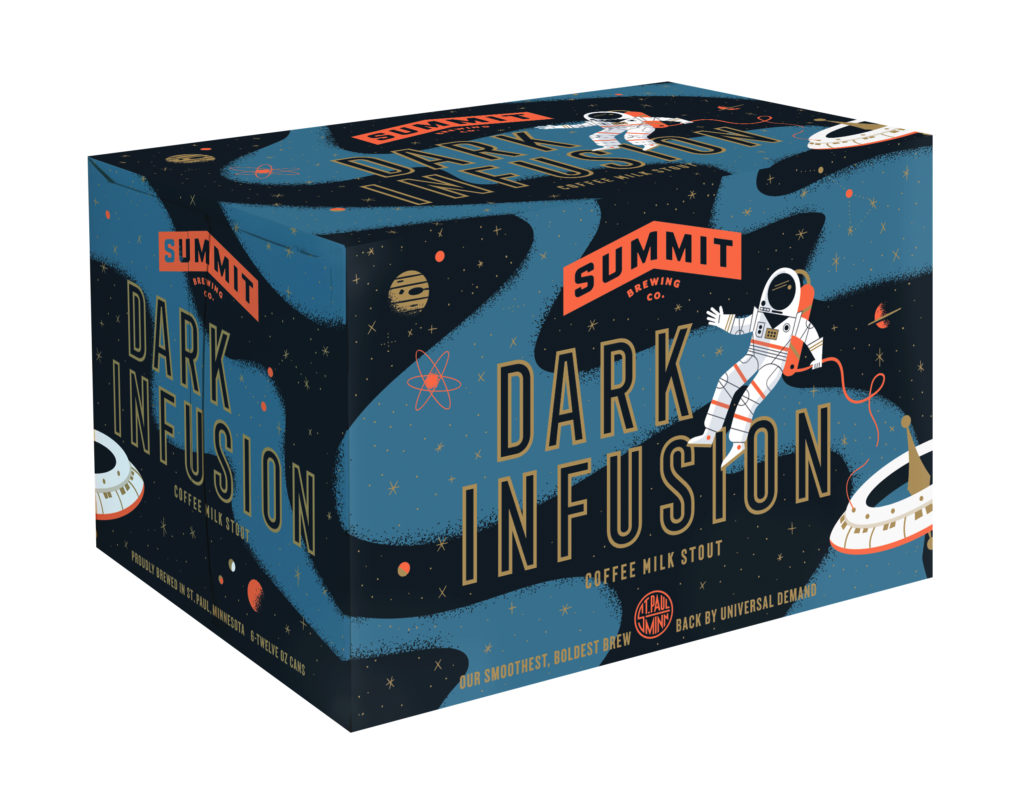 Back to News