We Heard It Was National Stout Month. Have You Tried Ours?
Thursday, February 20, 2020, By Summit Brewing
For many, there is much to look forward to in February. After 31 days of dark, cold and (most likely) snow, this short month stands just before our perpetual hope of spring – March. There's also Groundhog Day, Valentine's Day and President's Day.
Yet, if the Groundhog does not predict an early spring, you have no Valentine or you don't get President's Day off, there's little to celebrate.
So, that's why the Craft Beer Community decided to designate this wintery polestar to stout beer.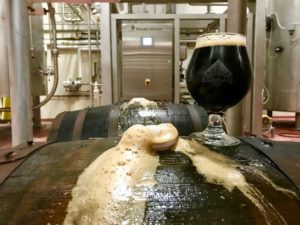 National Stout Month is the celebration of the diversity of the stout style, according to Craft Beer.
As best we can ascertain, National Stout Month was created in Colorado in 1993. A local brewery in Boulder, Colo. wanted to showcase their darkest brews in the darkest time of the year.
Now, in its 27th year, this celebration of strong beer is celebrated across the national brewing community. From Pennsylvania to Oregon, breweries are touting their stouts as the best. So, we thought we'd join in, too.
But first, a bit of (abridged) history.
According to British history, the first use of the word stout for beer was toward the end of the 17th century. However, at the time it was used to describe the beer as being strong not dark. Just a few decades later, in the early 18th century, porters would come along.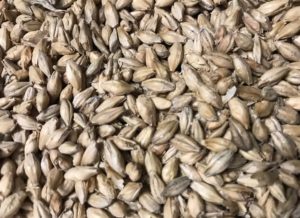 At first, all dark beers started as porters. They got their color due to the roasted malts used in the brewing process. And they got their name because they were favored among porters in London.
As the popularity of the porter grew, brewers began to explore the range of the style. They experimented with creating beers that ranged into the 7 – 8% ABV range. These, due to being stronger than their porter relative, were called stout porters.
Soon, the porter was dropped and these were just called stouts.
Stouts are characteristically made with roasted malts, barley for Irish stouts, and are dark brown or black in nature. They tend to have notes of chocolate, espresso and vanilla.
As the style has grown and changed, there have come to be many variations of the beer. These include:
Dry, or Irish, Stouts – Perhaps what people most commonly think of when they think if stouts. Irish stouts are normally served with a nitrogen propellant to create a creamy texture and long-lasting head. This grew from the traditional way beers were served in Ireland, from a cask by gravity. This style is a bit dryer due to the roasted barley.
Milk Stouts – Generally contains lactose and is often a bit sweeter than other stouts. These gained popularity after WWI, but declined a bit in the 20

th

Oyster Stouts – Oysters and stouts both became popular around the same time in the 18

th

As both started to fade in the 20

th

century, one brewery in New Zealand came up with using an oyster concentrate in the brewing process.
Imperial Stouts – We can thank Russia for these beers! Apparently, a stout brewed specifically for the royal court was shipped to Catherine The Great in the late 18

th

century, giving it its title of "imperial." She was pleased with the beer, so it has stuck around. These tend to have bold flavors, such as bitter dark chocolate, licorice and wine. They also have much higher ABVs.
Chocolate – These are stouts generally brewed with a chocolate malt to pull the chocolate flavor throughout the beer.
Oatmeal Stouts – Much like chocolate stouts are brewed with chocolate malts, oatmeal stouts are brewed with oats. These stouts have a proportion of oats added during the brewing process. The maximum is 30 percent, to avoid making the beer too bitter or like porridge. With The oat flavor comes through and also adds higher proteins into the beer.
Additionally, it is no longer true that stouts are strong in nature. In fact, many are low in alcohol and light in body. However, they do almost always possess the rich, dark color and roasty quality of the malts.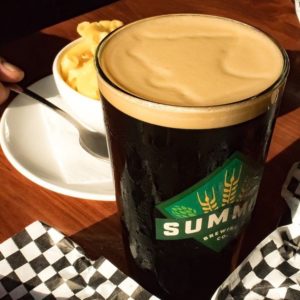 This can be seen in our Summit Oatmeal Stout.
Though brewed with oats, our Oatmeal Stout calls to Irish tradition by being just 4.7% ABV – perfect for sipping and socializing. Served with a Nitrogen/CO2 mix, its beautiful cascade gives way to a rich, black body with a khaki head. Notes of caramel, chocolate and coffee offer a rich, roasted flavor with a light body.
In addition to celebrating its style, Summit Oatmeal Stout is also celebrating its Sweet 16! First brewed in 2004, this beer has been on our line-up for 16 years.
Not a nitro fan? Or just dying to try all the styles now that you've learned they exist? Don't worry, we've got some of those covered in our limited-edition line-up.
Of course you can always use our nifty beer finder to locate a Summit style closest to you.
So, come celebrate National Stout Month, and a 16th birthday for our Summit Oatmeal Stout. Sláinte.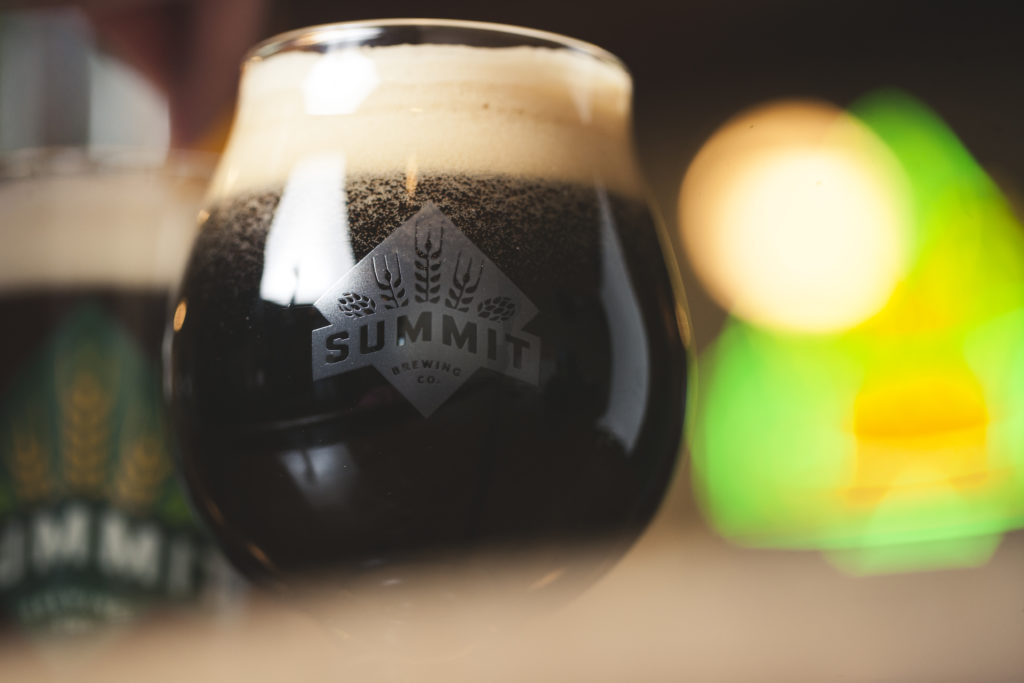 Back to News