Summit Brewing Co. Goes Freakin' Berserk With Hops
Wednesday, January 3, 2018, By Summit Brewing
Summit Sága Headlines IPA Collection, Featuring Three New Releases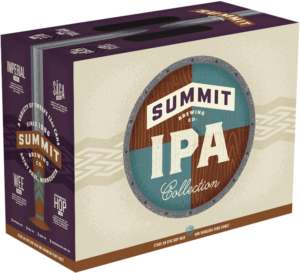 Legend has it, Berserkers were fearless Viking warriors known for entering battle in a crazed frenzy without armor or shield. Their descendants, it is said, roam the wintry landscape of modern-day Minnesota and its surrounding territories wearing nothing but t-shirts and shorts, braving The North's bitter cold without so much as a light jacket. And what, you might venture, is this hearty breed's secret? Hops. Their veins are thick with 'em.
Known the world over for their preservative qualities, hops are on full display in Summit Brewing Co.'s latest IPA Collection, a new variety box of twelve 12-oz. cans set to crash your neighborhood retailer's shelves in late January 2018.
Summit Sága IPA leads the charge with its robust hop flavors and aromas of kiwi, apricot and passionfruit. Supported by three never-before-seen Summit IPAs, each boasting a bold and powerful hop presence, the Summit IPA Collection intends to slay bland beers once and for all.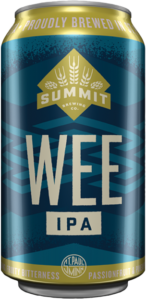 Summit Wee IPA
Heavily hopped and low in alcohol, this sessionable pale ale presents aggressive aromas of passionfruit, melon, pineapple and tangerine, as well as sturdy malt flavors of bread crust and toast. At 4.7% ABV and 35 IBU, Summit Brewer Mike Swiggum's creation promises a balanced attack. "Wee IPA will be very juicy and approachable. With tropical punch flavors and a mild malt bill, it avoids that dominating bitterness characteristic of some session IPAs."
Summit Experimental Hop IPA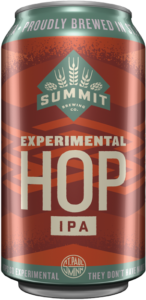 Assertively hoppy with intense aromas of fresh berries, pineapple, apricot, peach and coconut, Summit Experimental Hop IPA deploys hops so new and mysterious they don't have names. Flanked by a complex grain bill featuring Argentina pale malt from Cargill — never before used in the U.S. in a production-level assault — Summit Head Brewer Damian McConn has crafted a drinkable IPA at 6% ABV and 60 badass IBU. "This ale," he says, "will showcase the advances taking place in American hop cultivation." Always advance. Never retreat.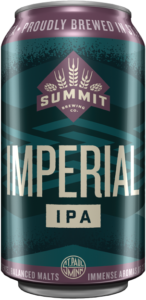 Summit Imperial IPA
The baddest beast in the box, Summit Imperial IPA is a powerful ale that'll batter your senses with immense aromas of tangerine, stone fruit, melon and lemon — thanks to a giant all-American hop bill. Weighing in at 8.5% ABV and 105 IBU, Summit Brewer James Birnie says, "It's a big west-coast-style IPA with two dry-hop additions and assertive carbonation." A medium body offers supporting malt notes of caramel and toast, helping you vanquish your thirst without destroying your palate. Let the myth-making begin.
Hop heads and beer berserkers can test their inner Viking at the Summit Beer Hall with an exclusive flight of these brews when they debut January 5, 2018. In the weeks following, these beers will be available exclusively inside the Summit IPA Collection, and a limited amount of Summit Experimental Hop IPA will be made available on draft.
Summit Wee IPA
ABV: 4.7%
IBU: 35
Color: Sunrise Gold (7 L)
Malts: Golden Promise, US Pale, UK Light Crystal, Flaked wheat, Malted oats, Carapils
Hops: Azacca, Mandarina Bavaria, Nelson Sauvin, Huell Melon, Galaxy
Yeast: UK Ale
Summit Experimental Hop IPA
ABV: 6%
IBU: 60
Color: Pale Amber (14 L)
Malts: Argentina Pale, Cara Red, Carapils, Wheat malt
Hops: Experimental Hop 07270, Bru-1, HBC 438
Yeast: U.S. Ale
Summit Imperial IPA
ABV: 8.5%
IBU: 105
Color: Pale Orange (12 L)
Malts: Golden Promise, US Pale, Carapils Copper, Malted white wheat
Hops: Eukanot, Mosaic, Denali
Yeast: U.S. Ale
Serving Tips: Serve all four Summit IPAs at 42–46º F in a Nonic pint glass.
Back to News