Meet the Summit Brewing Company Team: Brewer Matt Rivard
Tuesday, July 20, 2021, By Summit Brewing
When Mark Stutrud set out to create Summit Brewing Co. 35 years ago, his mission was clear – build a brewery that helped bring true beer culture back to the Midwest region. This meant using traditional methods and quality ingredients to brew beer that was authentic in style and consistent in taste. It also meant building a team that was creative, innovative and always learning.
We continue that mission in each and every employee on our Summit team. This includes, but is not limited to, our stellar brew squad. Not only do they each bring a masterful knowledge of beer to the table, but they also have an insatiable desire to learn.
So, we'd like to introduce you to the members of our awesome Summit brewing team. Last year, we met brewer Melissa Rainville. Then, in September we learned about Summit's Head Brewer Mike Lundell. This spring, we met morning brewer Joel Weyenberg. Now, let's meet our current night brewer Matt Rivard.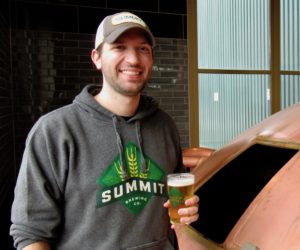 Let's start at the beginning. What made you want to learn more about beer and to get into the brewing industry?
I have always been fascinated with all the moving parts associated with the brewing process, from the hot side: cellaring and separation, to the cold side: packaging science and mechanics. I was not associated with the beer industry at first. I worked in manufacturing with CNC programming/maintenance and operation for a metal fabrication business. After I looked to make a change in my career, I found my way into brewing!
So, you've had a bit of an untraditional approach to becoming a brewer! With that, what does being a brewer at Summit mean to you?
The simple answer is proud. Each day is always different. I get to work with great people who are always willing to help out if needed. For me, learning Summit's processes was a decent learning curve at first. But with all of the experience this brew crew has, that made it considerably easier.
It's true our brewing team has quite a wealth of knowledge! They are also so willing to teach and learn together, and lend a helping hand. Bringing in new blood can help companies grow as well. So, with that, how do you think your perspective as one of the newer brewers with Summit shapes the team?
Not having as much experience as some on the team, I would like to think it is one from outside the beer industry. Hopefully, it is fresh/new. I am always trying to achieve ways to help the company be the best as possible.
Bringing in a fresh perspective is always so important. Currently, you are the nightside brewer. What does that role look like?
Generally, my shift starts around 3 – 4 p.m. and ends around midnight or 1 a.m. What it all entails is finishing up the brews for that particular day, checking tank temps, activating fermentation status, running CIP's on a variety of pipework.
Must be a bit different than some of the daytime brewing activities! Looking at the world of craft beer in 2021, what are some challenges you think the industry faces? What do you think the future holds for craft beer?
One of the biggest factors I think is keeping interest in the brand, due to the amount of variety available in the market. With that said, the quality of our product goes a long way towards that goal. As for 2021, the path of the Hazy IPA will continue, but I hope that more pilsners/lagers make their way to the front again!
We love our lagers here at Summit! Tell me, how do you feel Summit has helped define craft beer?
Summit is Minnesota craft beer. The history of this company and what it represents/stands for should be the craft beer standard: true to style and backed with quality and consistency.
Outside of Summit, what beer do you think helped define the craft?
With so many craft breweries across the country the couple that stand out to me are Sierra Nevada and New Belgium. They continually keep producing top quality product and are always pushing the boundaries with new styles and such.
Great choices! Tell me, what was the first beer you ever had?
That is a fine question! If I had to pick I believe it was Old Style, if my memory serves me correctly.
That definitely sounds like a first-time beer! As for Summit beer, what is your favorite?
There are a few! But for me, hands down, Keller Pils. Since day one!
Summit Keller Pils is definitely a fan favorite around the brewery! You've mentioned great beer, great colleagues and a fun-yet-challenging work environment. If you had to sum it up, why do you love working at Summit?
Short answer is the TEAM! I appreciate each and every employee I work with. Also, having the opportunity to work for such a well-respected company is truly an honor, and I am very grateful for that!
Back to News