Summit Barrel-Aged Badge Chaser: Only At Dark Horse Bar & Eatery
Monday, April 30, 2018, By Summit Brewing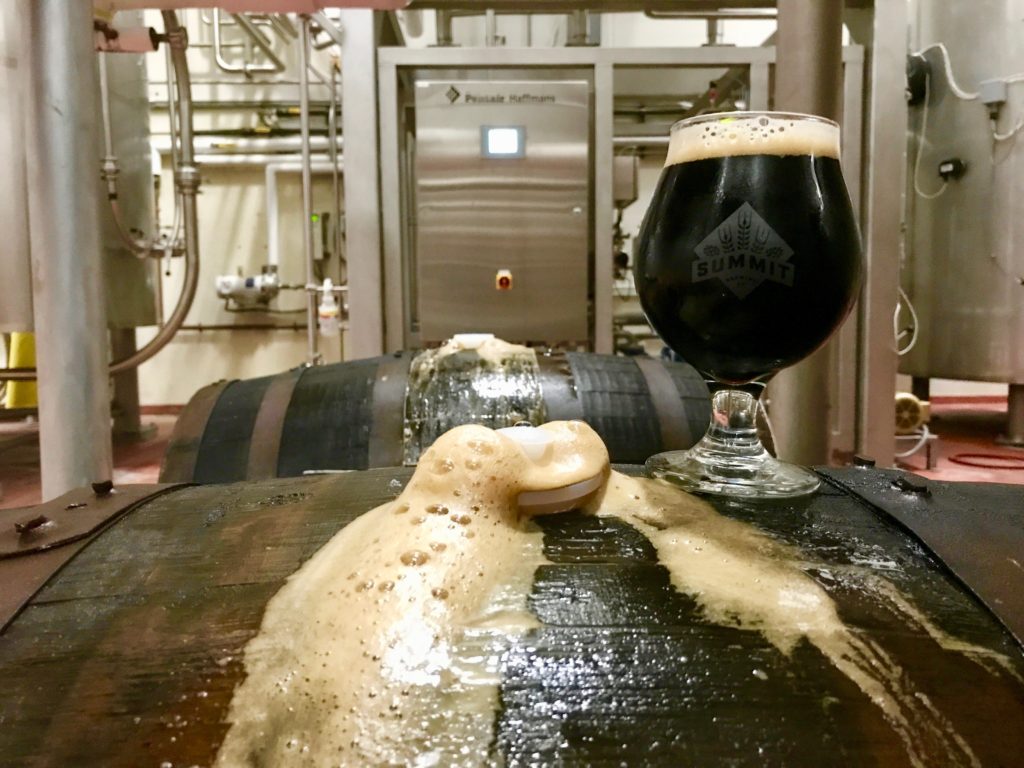 Yoooooo, heads up! Coming up Wednesday, May 9, we'll be tapping a brand-new, limited beer at Dark Horse Bar & Eatery — Summit Barrel-Aged Badge Chaser.
WHAT'S A BADGE CHASER?
Well, first off, it's an 8.5% ABV Brown Ale that Summit Brewer Tom Mondor aged for 120 days in rye whiskey barrels. Friggin' delicious. Secondly, however, it's a wink and a nod at all the craft-beer chasers who've been having fun reviewing Summit beers on social media.
THE BACKSTORY
If you've been paying attention to craft beer for the past, oh, eight years, you're probably familiar with Untappd, an app that helps you keep track of and rate all the craft beers you've enjoyed. There's a bit of a game built into the app, and it basically goes like this: Try more beers and get a badge. Get more badges and brag to your friends about all the great beer you've tried. It's kinda like chasing Pokémon, yeah?
Well, if you've been following Summit Brewing Co. on social media for the past year, you might've noticed this drink-all-the-beers mentality has maybe led to some rather silly reviews of our beers. Rather than ignore these reviews, though, we consider them a source of valuable feedback. They allow us to:
Communicate directly with our drinkers
Learn what they like and don't like
Educate them a little bit about our beers and our approach to brewing
Have some laughs, dang it
Because we get so much great feedback from these "Badge Chasers," we've decided to make a beer just for them.
SUMMIT BARREL-AGED BADGE CHASER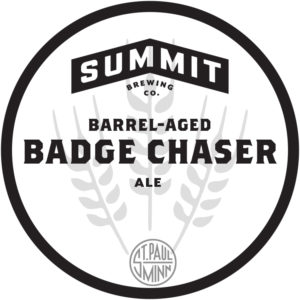 Using a complex malt bill featuring 2-row pale, caramel, crystal and a few others, Brewer Tom Mondor made a one-time-only Brown Ale and aged it in rye whiskey barrels. Decidedly malt-forward, Summit Barrel-Aged Badge Chaser is delicately hopped with varieties from the US and the UK, leading to balanced bitterness and refreshing drinkability. The base beer presents bready, toasted malt flavor with hints of caramel, dark fruit, chocolate, maybe a little espresso, and a dash of hop spice. Thanks to its time (120 DAYS!) in the barrel, however, you can expect some additional notes of brown sugar, toffee, vanilla, smoke, a touch of maple syrup, and spicy rye in the final beer.
And don't forget: The ABV is 8.5%, so tread carefully.
THE BARRELS
We've been telling you about our Jamaican rum barrels for months, but this is the first word you've heard about our rye whiskey barrels. Surprise!
And why rye? Well, the distributor didn't offer bourbon. And besides, rye gives the beer a nice spicy character.
Each 54 gallons in size, these rye barrels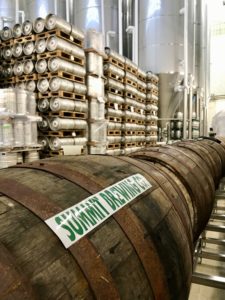 came straight from a super-secret Kentucky distillery, where they'd been emptied just prior to shipping. Then we stuck some beer in there and let it age for 120 days. Do you have any idea how hard it is to wait that long to taste a beer?
THE TASTING
If you're the kind of craft-beer aficionado who likes chasing whalez and tasting the freshest experimental barrel-aged beers, join us at 4 p.m. on Wednesday, May 9, only at Dark Horse Bar & Eatery.
If you make it out to the tasting, please let us know what you think of the beer. We have a few other beers lined up for these rye barrels, and your feedback will help guide us throughout our future barrel-aging projects — perhaps with brandy barrels or tequila barrels or scotch or gin. We just don't even know, we kinda want to do 'em all.
One other thing: Pair the beer with charred steak, grilled fish, or any meat. All of Brewer Tom Mondor's food suggestions revolve around meat.
BONUS: Enjoy Summit Barrel-Aged Badge Chaser alongside other Summit brews, including Extra Pale Ale, Sága, Maibock, Oatmeal Stout, Dakota Soul, Skip Rock, Lazy Sipper and Hefeweizen.
WHY WE'RE PLAYING WITH LIQUOR BARRELS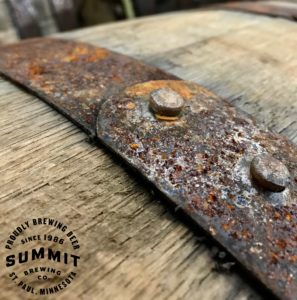 "Summit has its roots in traditional German lagers and British ales, and throughout history these beers were traditionally finished in wood barrels," says Head Brewer Damian McConn. "Stainless steel is a relatively new material, considering the long history of brewing. Getting into wood takes us back to the traditional roots of the brewers before us, and we can do it slowly and carefully while we focus on quality and flavor."
One more special barrel-aged beer will be available at Dark Horse Bar & Eatery later in 2018, so make sure to follow Dark Horse and Summit Brewing Co. for updates.
THE PARTNERSHIP
Working with Dark Horse Bar & Eatery represents a great opportunity to partner with an established retailer to push interesting flavors in food and drink. "There's a strong local connection there," says McConn, "and Paddy [Whelan, owner of Dark Horse] is a strong supporter of Summit. He's working hard to carve out a reputation for creativity and quality, and we're happy to be part of it."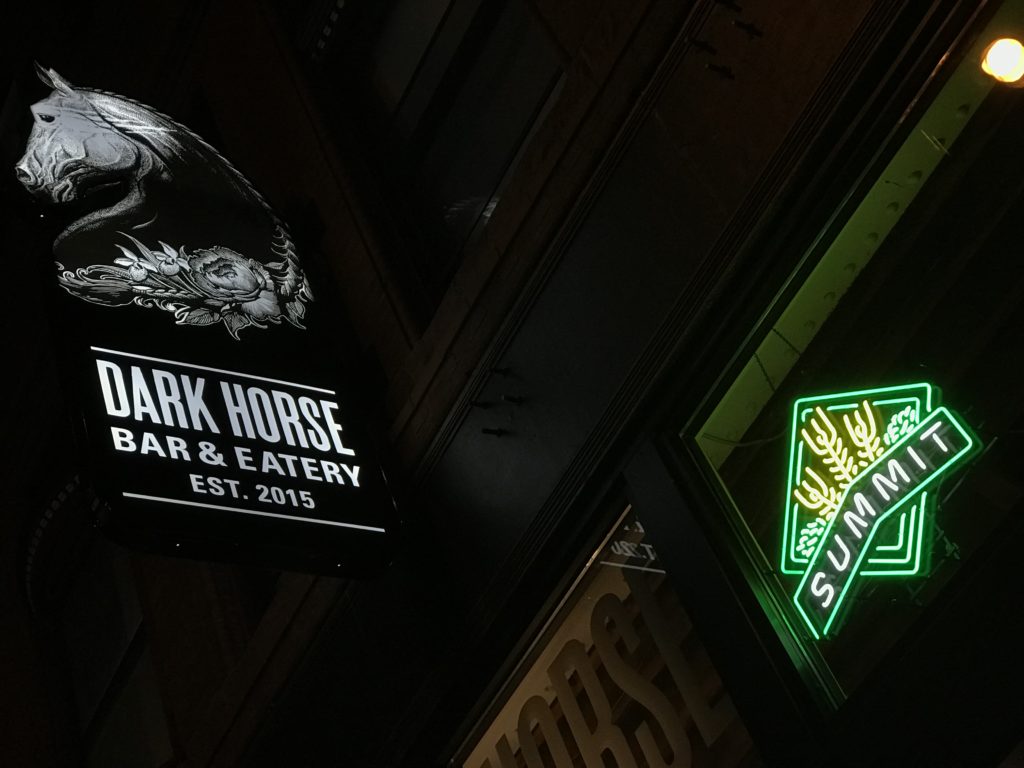 Back to News