Summit Banjaxed, Brewed Extra Special for Pizza Lucé
Wednesday, December 6, 2017, By Summit Brewing
Greetings, beer lovers and pizza eaters. (That must include just about everybody, yeah?)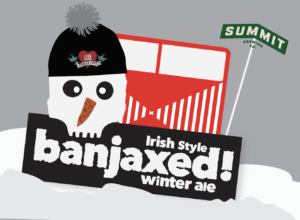 Summit Brewing Co. has teamed up with Pizza Lucé this winter to bring you Summit Banjaxed, an Irish-style Winter Ale that'll keep you feeling refreshed, warm and happy as you nosh on your next slice of pizza pie — and the next one after that, too.
Available at all Minnesota Pizza Lucé locations from December 12th all the way through March, unless you drink it all real fast, Summit Banjaxed seeks to showcase the flavors of export ales produced by Irish breweries up until the 1960s.
And for those of you who haven't had a fresh 50-year-old Irish beer in a while, here's what the heck that even means:
Flavors and aromas of caramel, stone fruit, and blackcurrants leading to a full mouthfeel and balanced finish.
5.8% ABV to keep you warm, and a bit dry and bitter at 38 IBU to keep you thirsting for your next sip.
Served only on nitro for a soft, deep smoothness and that dreamy cascading-bubbles effect that looks so dang pretty on Instagram.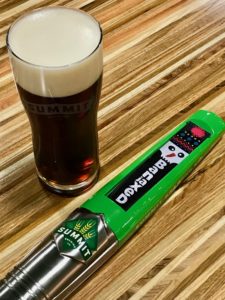 Brewed with Old World pale and caramel malts, plus Golden Promise malt from Scotland, crystal malt from England, and some more pale malt from Ireland, Summit Banjaxed also boasts exciting, flavorful and aromatic hops from the new world — namely, Moutere hops from New Zealand and Loral hops from the U.S.
The final beer is mahogany in color and avoids being cloyingly sweet or excessively bitter — because you wouldn't like either of those things. Trust us.
With satisfying herbal and floral characteristics, Summit Banjaxed ought to pair nicely with Pizza Lucé dishes featuring ingredients like cauliflower, roast beef, spicy peppers, or other savory elements. But then again, a quality, well-made beer tastes great with any pizza. Which is why we signed up to brew this one in the first place.
Finally, some of you may be wondering what "Banjaxed" means. We'll tell you it's Irish slang, but that's it. To find out the term's actual definition, you'll have to go order a pint at Pizza Lucé and ask them.
We'll see you at the pizza pub.
BONUS: You get a little treat for reading this whole post. The Summit Beer Hall has reserved a limited amount of Summit Banjaxed to serve on site. Available beginning December 14, we hope you'll come by and have a pint. Bring your own pizza.
Back to News