Save Some Calories on Thanksgiving by Drinking Triumphant IPA
Monday, November 23, 2020, By Summit Brewing
Though it may not feel like it, Thanksgiving is just around the corner. It's the time of year where we gather to recount all the things we're grateful for, like beer!
While this year's holiday may not look the same, we're certain there will still be celebration, beer (at least at our house) and over-eating! And not just because we (well, most of us) have been doing that already throughout 2020.
Luckily, we here at Summit Brewing Co. thought ahead when creating our latest brew Summit Triumphant Session IPA, because nothing pairs better with a celebration of plenty than this low-cal, low-carb IPA!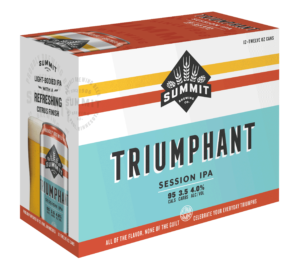 To start, Triumphant is an India Pale Ale, one of – if not the – most popular styles of craft beer.  This means it's sure to please most anyone. It also means it has a nice hop flavor that leads to a balanced bitterness throughout the drinking experience.
When creating the flavor profile, we also wanted to ensure that there were the traditional tropical notes often found in many IPAs. These flavors of pineapple, grapefruit and apricot pair beautifully with salads, vegetables and fruits. Some of which are sure to be found on your Thanksgiving table…or in your Thanksgiving pies.
Of course, it doesn't hurt that the beer itself only has 95 calories, 3.5g of carbs, 0g of fat and 1g of protein. On a day when we (again, most of us) are sure to be indulging in plenty of carbs and fat (and maybe some protein) any place where we can carve off a few is a plus! Also, it's only 4% ABV which means there's the opportunity to enjoy more than one should you want!
Finally, with a name like "Triumphant" how can you not break it out any time there is something to celebrate? Celebration is built into the name!
So, when preparing your socially-distanced feast this year, don't forget you can shave a few calories off when including Summit Triumphant Session IPA as your holiday brew!
Summit Triumphant Session IPA is available in 6-and-12packs of 12oz cans. Stock up before the holiday arrives!
Back to News