Join Summit Brewing Co.'s Mark Stutrud & Team at the Minnesota State Fair on Opening Day!
Event Date:
August 26, 2021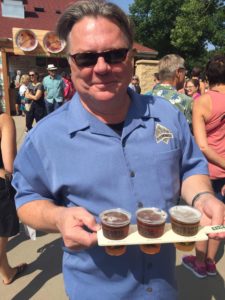 Date: 4:30–6:30 p.m. Thursday, Aug. 26, 2021
Location: Summit On A Stick Booth • Shanghai Henri's, International Bazaar, Minnesota State Fair
Summit Brewing Co.'s Founder and President Mark Stutrud is hitting up the Summit On A Stick Booth for a State Fair Happy Hour. Join him for a taste of Summit Berry Bazaar Ale — our new Kölsch-style ale made with black currants and cranberry. After that, grab a free Summit bandana and have a flight of Summit beers. You can choose from Summit Extra Pale Ale, Summit Sága IPA,Summit Slugfest Juicy IPA, Summit Oktoberfest, Summit Cabin Crusher Kölsch-Style Ale with Lime and Summit Keller Pils and the Berry Bazaar!
While you're there, don't forget to register for your chance to win a Summit Cabin Crusher Lily Pad!
For more about the rest of our shenanigans at the State Fair, visit Where to Drink Summit Beer at the State Fair.