How Sexy Is Summit Beer? Let Us Count the Ways
Monday, February 14, 2022, By Summit Brewing
Beer is great for so many occasions. Often, it's the go-to beverage for a tailgate party, a backyard barbecue or a casual game night.
One event that seems to evade it, however, is Valentine's Day.
But, true beer lovers know that a good brew can be incredibly seductive. So, this year let wine and cocktails take the back seat and explore our deliciously decadent Summit beers.
And while we know that all our beers are sexy, here's where we feel they land on the indulgence scale.
Enjoy!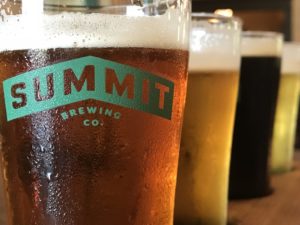 As with many a relationship, we're starting off innocently. This juicy IPA boasts sweet flavors of orange candy that are reminiscent of playground romances.
Clean, crisp and clear. This no-frills lager will show you exactly what it's made of right off the bat. While for some that can be intimidating, for others it's exactly what they are looking for.
Sága IPA's seductive imagery is what helps bump this bold, bitter brew into the #8 spot. While a little bit more filling due to its robust hop character, Odin and Sága sharing a beverage together really paint a luscious picture. Add in tropical notes of kiwi and pineapple, and you're whisked away on a dream vacation.
Never underestimate the attractiveness of reliability and comfort. Extra Pale Ale may not have the flashiest flavors but it comes through time and time again. It's consistent and dependable. It won't ever let you down. That's hot.
Few things are sexier than being at the top of your game. Everyone loves a winner. And no one wins more than Keller Pils.
No matter your physique, everyone can appreciate someone who takes care of themselves. This health-conscious brew is not only attractive to those who like a little more hop, but also those seeking a lighter option.
You can never go wrong with chocolate and coffee on Valentine's Day! Another classic, dependable style, this porter will never disappoint.
Whatever the reason, smokiness is sensual. Smoky eyes, smoky voice, smoky rye notes. This beer's full-body, citrus hop notes and robust rye flavor really can get your heart going!
Once again packaging comes into play here. The cursive letters on this beer's exterior hint at its flirtatiousness. Then, once you open it up, it offers inviting notes of cherry, caramel and espresso.
This seems like a no-brainer. With its creamy body, sweet flavors of chocolate and vanilla and velvety-smooth finish it's clearly a very racy brew.
Whatever beer you're enjoying this Valentine's Day, please drink responsibly! You can find Summit beer at a store or bar/pub near you using our Online Beer Finder
Back to News