Summit Brewing Company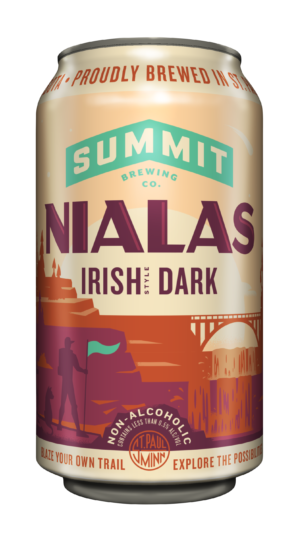 Nialas Non- Alcoholic Irish-Style Dark
Discover what a non-alcoholic beer CAN be
Expand your horizons with Nialas Non-Alcoholic Irish-Style Dark. This unique NA stout-style has big flavors of espresso, chocolate and caramel, balanced by spicy hop characteristics. Brewed with a broad range of imported malts and European hops, it offers depth and range while still remaining less than 0.5% ABV.
Conversation Starter
Pronounced knee-uh-lis, Nialas is Irish Gaelic for "zero" in reference to the non-alcoholic quality of this full bodied Irish-Style Dark. Summit Brewing has been blazing trails since 1986 and now you can enjoy this traditionally crafted dark beer on any adventure.
Specifications
Beer Facts
ALCOHOL BY VOLUME: <0.5%
COLOR: Chocolate Brown (55 L)
HOPS: Imported Hops
MALTS: Domestic and Imported Malts
YEAST: Ale
ESTABLISHED: 2022