What's In A Name: Slugfest Juicy IPA
Wednesday, May 19, 2021, By Summit Brewing
What's in a name? While true that a Summit Slugfest Juicy IPA by any other name would be just as refreshing, when it comes to this particular moniker there's a bit of a story.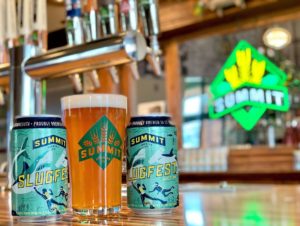 A question frequently asked of many Summit Brewing Co. employees is, "Do you get to help name the beer?"
The answer is, yes! All of our employees are encouraged to help come up with names when we release new styles. It's definitely a team effort because naming a beer is hard! (If you recall, it took six months to name Sága IPA.)
When it comes to naming a new brew, there's so much more that goes into it outside of being catchy and kitschy. You'll notice, throughout the years we've tended to stick to the style as the name of our beers. In part, because this helps reduce the difficulty of giving a namesake.
But when it came to Slugfest Juicy IPA, we knew this one needed to make a splash.
When considering possible titles for this beer, all aspects of its makeup were considered: the combination of new-world and old-world hops, it's orange appearance and tangerine aromas, its citrus-forward hop flavor but low bitterness. Ultimately, the characteristic we kept returning to was its drinkability. At just 4.7% ABV and 150 calories per 12oz serving, this beer was one you could toss back a few times. You might say, it was a slugfest.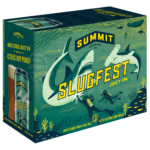 Right now you may be saying, "OK, but how does drinkability connect to sharks?"
We're getting there.
With a name in place, we can begin to think about designs. While the idea of Slugfest originated out of the beer's highly repeatable taste, it also is something this beer can help you get through.
Life can be full of challenging people, frustrating situations and impossible-to-solve problems. These "predators" to a good time can make the day-to-day feel like something you have to slug through. In other words, life is a slugfest.  And when life punches you, you give it a citrus punch right back.
Thus, Slugfest Juicy IPA with its turquoise underwater artwork was unveiled in spring of 2019 and has since solidified its standing as a highly drinkable, undeniably repeated year-round Summit brew.
Summit Slugfest Juicy IPA is available in 6- and 12-packs of 12oz cans. Find it at a store near you!
Back to News