Summit Beer Hall Exclusive #8: Lägjammin' Lager
Tuesday, September 19, 2017, By Summit Brewing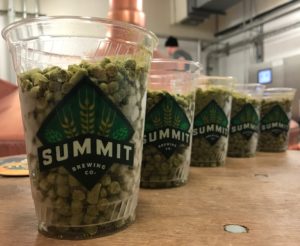 NEW BEER ALERT
More hop-forward than a traditional Summit lager. Fermented too cold to be an IPA. What is it?
It's an India Pale Lager, first off.
Second, it's our next Summit Beer Hall Exclusive —Lägjammin' Lager — and another Team Brew captained by Brewer Christian Dixon on the pilot system. Joined by Summit Brewing Co. employees from the beer hall, marketing team, bottling line and more, Dixon supervised the addition of like 4.5 lbs. of hops per barrel in this batch. Which is a lot.
Featuring Citra hops for a bittering presence and Denali hops for flavor and aroma, Lägjammin' Lager layers citrus and spicy herbal aromas over a complex malt bill of German Kölsch malt, torrified wheat, and a little Full Pint Brewers Malt. Due to !!!DOUBLE DRY-HOPPING!!!, however, hops are gonna run the show here.
"We were initially at 3.5 lbs. of hops per barrel," recalls Dixon. "But then we thought we could push the hops further and added more. You know, for fun." Kinda zany, huh?
So, What's an India Pale Lager?
Treated like an IPA all the way until fermentation, Dixon and his team threw this brew a curveball with California Common yeast and a low-low fermentation temp more common to lager styles.
"It definitely walks the line between an ale and a lager," Dixon says, "but it's an interesting twist on something familiar. It's got a big body like an ale, and the cooler temp tends to minimize a lot of the esters [fruity flavors] that you might expect from a lager with this kind of yeast."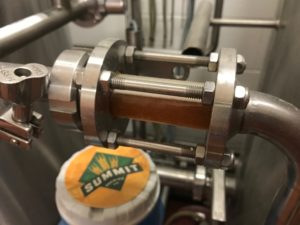 Coming in at 7.0% ABV and 80 IBUs, Lägjammin' Lager is fairly malty, but ultimately it's crisp and clean with a pronounced hop presence. And though you may be familiar with Summit's approach to traditional European styles and recipes, this India Pale Lager is decidedly different.
Brewed with old-world copper equipment, a mix of modern and traditional ingredients, and technology that just isn't available to other brewers in Minnesota, "The India Pale Lager is an emerging style, and ours is fairly experimental," says Dixon.
So, come on in and grab a pint of Lägjammin' Lager at the Summit Beer Hall Thursday, September 21. Then, when the next brewery down the road cooks up their own batch, you'll have a point of reference.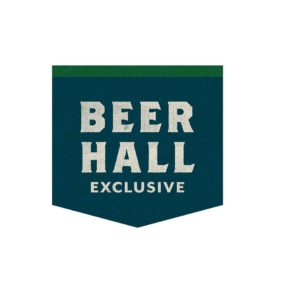 Summit Beer Hall Exclusives
Created and brewed on our small pilot system, each Beer Hall Exclusive is led by a different Summit Brewer and produced by a team of Summit employees from across the brewery. This collaborative approach is a great way for folks from our sales and marketing teams to get friendly with our production and administrative teams. Or spend the day bickering about hops.
By nature, small batches like these won't last long. If you miss one for some reason, you'll be S.O.L. until our next Beer Hall Exclusive comes around. Sorry, that's how this works.
Summit Beer Hall Exclusive #8: Lägjammin' Lager, an India Pale Lager
ABV: 7.0%
IBU: 80
Tapped Thursday, September 21, at 4 p.m.
Food Truck: La Tapatia Food Truck
Back to News