We Love Bikes. We Are So Friendly With Bikes!
Thursday, May 11, 2017, By Summit Brewing
The state of Minnesota is consistently ranked as one of the most bike friendly in the country, and with beautiful trails, well-used bike lanes, and healthy bicycle infrastructure, our Twin Cities of St. Paul and Minneapolis set the bar for bike-friendly cities around the world.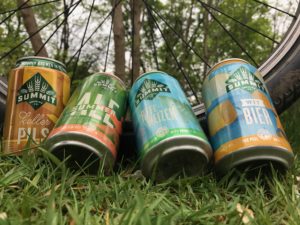 Biking at the Brewery
Summit Brewing Company has long supported our local cycling community by offering event space to bicycle advocates, sponsoring and hosting rides, and — perhaps most importantly — pouring beers for thirsty riders. If you're looking to join or support a cycling group, in need of an excuse to wear those new spandex bike shorts, or you just want a place to ride your bike some sunny Saturday, check out these opportunities.
Bicycle Benefits
First off, Summit Brewing is happy to participate in the Bicycle Benefits program. How does it work? Simply purchase the Bicycle Benefits sticker in our gift shop for $5, stick it on your bicycle helmet, and enjoy 2-for-1 beers here at Summit any time you ride your bike to the Beer Hall.
Bike MS
Coming up Saturday, May 13, Summit is proud to host and sponsor the Bike MS: Twin Cities Ride. Organized by the National MS Society, this annual event brings together nearly 1,000 riders — including a whole team of Summit Brewing employees — to bike anywhere from 12 to 50 miles through St. Paul and Minneapolis, all for one cause: a world free of multiple sclerosis. During a recent Bike MS registration event here at the Summit Beer Hall, County Cycles of Roseville biked over to the brewery with their tool kit and offered free bicycle safety inspections for anyone participating in the Bike MS ride. Learn more about this great annual event by checking out our blog.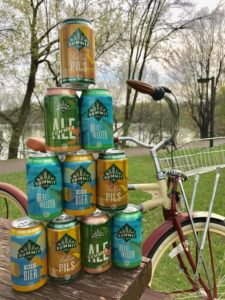 St. Paul Classic
The Saint Paul Classic is a "showcase for the handsome parks and parkways of Saint Paul." One of our favorite trails is the 9.3-mile Samuel H. Morgan Regional Trail, located just steps from the brewery along Shepard Road and the Mississippi River.
Offering routes ranging from 15 miles to 47 miles, the 23rd annual Saint Paul Classic Bike Tour will take place Sunday, September 10, 2017. Summit Brewing Co. sponsors the ride by hosting a thank-you party for event volunteers.
St. Paul Bicycle Racing Club
Established in 1984, the St. Paul Bicycle Racing Club is a cornerstone of the Twin Cities cycling community. By promoting safe and responsible riding, as well as providing support through coaching and mentoring, the SPBRC hopes to "give each member the opportunity to become a better racer and member of the cycling community." The SPBRC held its annual spring meeting at the Summit Beer Hall in early April, during which its members enjoyed good beer, picked up their new kits, and learned about the club's racing plans for 2017.
Grand Performance Bike Shop
Independent and locally owned and operated, Grand Performance Bike Shop has sold over 10,000 bikes since it opened in 1983. Located right here in St. Paul on Grand Avenue, Grand Performance pedals down to the brewery every year to throw a party in our Beer Hall.
Ain't no party like a bike-beer party, so we'll see you on the trails.
Back to News