Beer Release: Unchained Series Batch No. 25, Vienna-Style Lager
Event Date:
June 29, 2017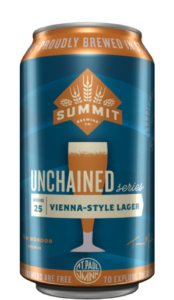 Location: 910 Montreal Circle, St. Paul, MN 55102
Date: June 29, 2017
Time: 4:00 – 10:00 PM
Join us at the Summit Taproom & Patio for the official release of  Summit Unchained 25: Vienna-Style Lager! Tom Mondor, the evil genius behind this special brew will be on-site, beer-in-hand, and waiting to answer all of your lagering questions.
Delicious German fare (3 types of sausage, potato salad, and lentil spaetzel salad) will be served up on the patio by the one and only Black Forest Inn.
Special musical guest, the prodigal Josh Eidsor, will be in the Taproom playing his concertina from 4:30-7:30pm!
Last, but certainly not least, representatives from The Germanic-American Institute will be in the house spreading the "gut wort" (German for "good word"… who knew?!) and helping you play that kick-arsch game where you pound a nail into a log with a big ol' hammer.
We look forward to sharing a pint with you! Speaking of pints… click here for more information on Unchained 25: Vienna-Style Lager.
Prost!