Summit Brewing Company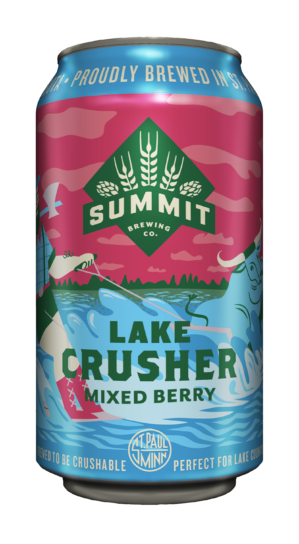 Kick back and Relax with Lake Crusher Mixed Berry
Our latest addition to the Crusher family is an another easy drinking Kölsch style ale with black currant and cranberry purees. Flavors of tart mixed berries blend with notes of buttery pie crust for a full bodied yet refreshing finish. Lightly hopped and just 4.8% ABV, it is the perfect companion for this sunny days on the lake.
Conversation Starter
Low in alcohol, lightly hopped and high in carbonation and drinkability, Summit Lake Crusher Mixed Berry is a traditional Kölsch-style ale spiked with black currant and cranberry, plus lemon-lime citrus-forward hops from the U.S., including Lemon Drop and Loral varieties. Balanced by malt flavors and aromas of honey, biscuit and toast, the end result is a crisp, easy-drinking ale perfect for sunny days on the water.
{Limited Release} Alcohol by Volume: 4.8% IBU: 25 Original Gravity: 11.5ºP Color: Straw (2.3L) Hops: Northern Brewer, Loral, Lemon Drop Malts: 2-Row Pale, Malted White Wheat, Carapils Kettle Additions: Black currant puree, cranberry puree Yeast: Kölsch yeast Established: 2023
Specifications
Beer Facts